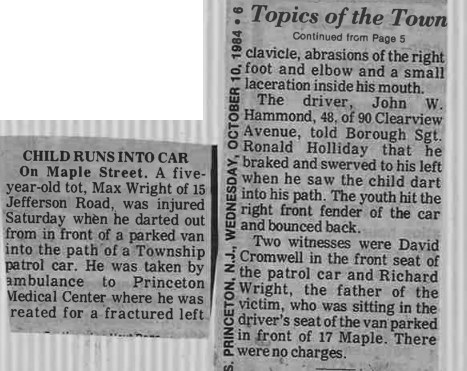 Town Topics
10 October, 1984
Child Runs Into Car
 On Maple Street. A five- year-old tot, Max Wright of 15 Jefferson Road, was injured Saturday when he darted out from in front of a parked van into the path of a Township patrol car. He was taken by ambulance to Princeton Medical Center where he was treated for a fractured left clavicle, abrasions of the right foot and elbow and a small laceration inside his mouth.
The driver, John W. Hammond, 48, of 90 Clearview Avenue, told Borough Set. Ronald Holliday that he braked and swerved to his left when he saw the child dart into his path. The youth hit the right front fender of the car and bounced back.
Two witnesses were David Cromwell in the front seat of the patrol car and Richard Wright, the father of the victim, who was sitting in the driver's seat of the van parked in front of 17 Maple. There were no charges.