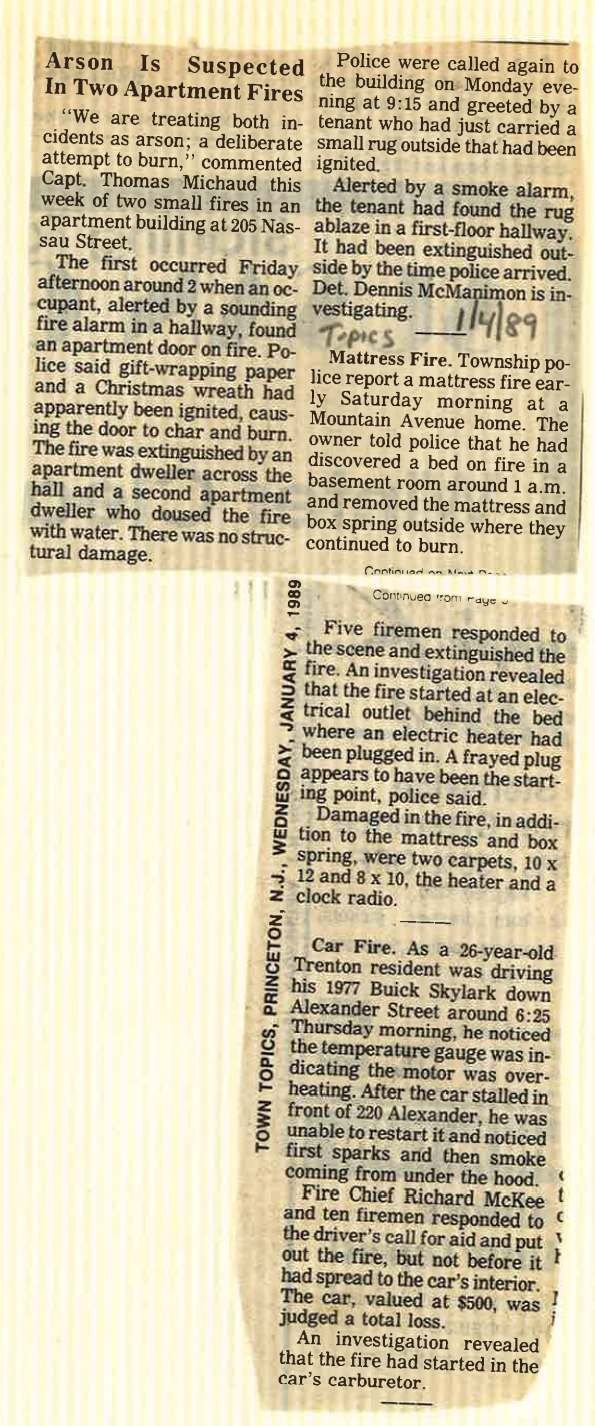 Town Topics
4 January, 1989
Arson Is Suspected In Two Apartment Fires
"We are treating both incidents as arson; a deliberate attempt to burn," comment. Capt. Thomas Michaud this week of two small fires in ar apartment building at 205 Nassau Street.
The first occurred Friday afternoon around 2 when an on-.pant, alerted by a sounding fire alarm in a hallway, found an apartment door on fire. Police said gift-wrapping paper and a Christmas wreath had apparently been ignited, causing the door to char and burn. The fire was extinguished by. apartment dweller across the hall and a second apartment dweller who doused the fire with water. There was no structural damage.
Police were called again to the building on Monday evening at 9..l5 and greeted by a tenant who had just carried a small rug outside that had been ignited.
Alerted by a smoke alarm, the tenant had found the rug ablaze in a first-floor hallway. It had been extinguished outside by the time police arrived. Det. Dennis Me!Heron is investigating. 11c S °
Mattress Fire. Township police report a mattress fire early Saturday morning at a Mountain Avenue home. The owner told police that he had discovered a bed on fire in a basement room around 1 a.m. and removed the mattress and box spring outside where they continued to burn.
Five firemen responded to the scene and extinguish.' the fire. An investigation revealed that the fire started at an electrical outlet behind the bed where an electric heater had been plugged in. A frayed plug appears to have been the starting point, police said.
Damaged in the fire, in addition to the mattress and box spring. were two carpets. 10 x 12 and 8 x 10, the heater and a clock radio.
Car Fire. As a 26-year-old Trenton resident was driving his 1977 Buick Skylark down Alexander Street around 6:25 Thursday morning, he noticed the temperature gauge was indicating the motor was overheating. After the car stalled in front of 220 Alexander, he was unable to restart it and noticed first sparks and then smoke coming from under the hood.
Fire Chief Richard McKee and ten firemen responded to the driver's call for aid and put out the fire, but not before it had spread to the car's interior. The car, valued at $500, was judged a total loss.
An investigation revealed that the fire had started in the car's carburetor