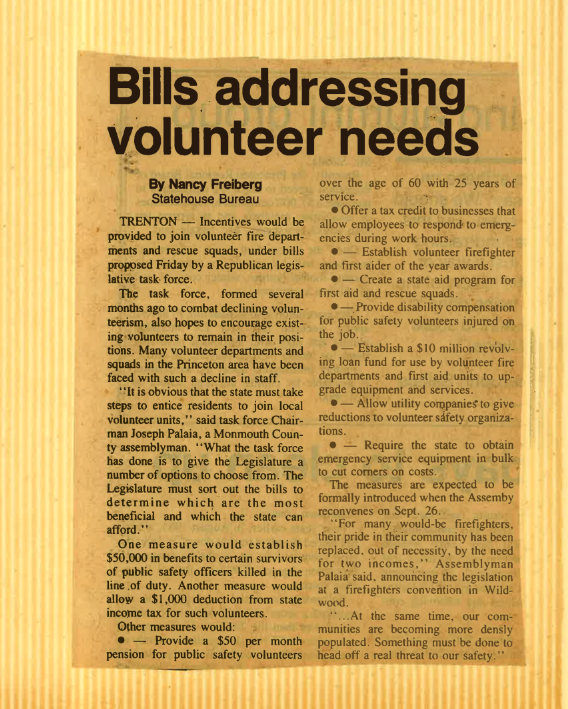 Princeton Packet
6 September, 1965
Bills addressing volunteer needs
By Nancy Freiberg
Statehouse Bureau
TRENTON — Incentives would be provided to join volunteer for departments and rescue squads, under bills proposed Friday by a Republican legislative task force.
The task force,  formed several months ago to combat declining volunteerism, also hopes to encourage existing volunteers to remain in their positions. Many volunteer departments and squads in the Princeton area have been faced with such a decline in staff.
"It is obvious that the state must take steps to entice residents to loin local volunteer units." said task force Chairman Joseph Palaia, a Monmouth County assemblyman. "What the task force has done is to give the legislature a number of options to choose from. The Legislature must son out the bills to determine which are the most beneficial and which the state can afford."
One measure would establish $50,000 in benefits to certain can of public safety officers killed in the line of duty. Another measure would allow a $1,000 deduction from state income tax for such volunteers.
Other measures would:
– Provide a $50 per month pension for public safety volunteers over the age of 60 with 25 years of service
Offer a tax credit to businesses that allow employees to respond to emergencies during work hours.
– Establish volunteer firefighter and first aider of the year awards
– Create a state aid program for first aid and rescue squads
– Provide disability compensation for public safety volunteers injured on the job.
– Establish a $10 million revolving loan fund for use by volunteer fire departments and first aid units to upgrade equipment and services.
– Allow utility companies to give reductions to volunteer safety organizations.
– Require the state to obtain emergency service equipment in bulk to cut corners on costs.
The measures are expected to be formally introduced when the Assembly reconvenes on Sept. 26.
"For many would-be firefighters, their pride in their community has been replaced. out of necessity, by the need for two incomes." Assemblyman Palaia said, announcing the legislation at a firefighters convention in Wildwood.
"… At the same time, our communities are becoming more densely populated. Something must be done to head off a real threat to our safety."