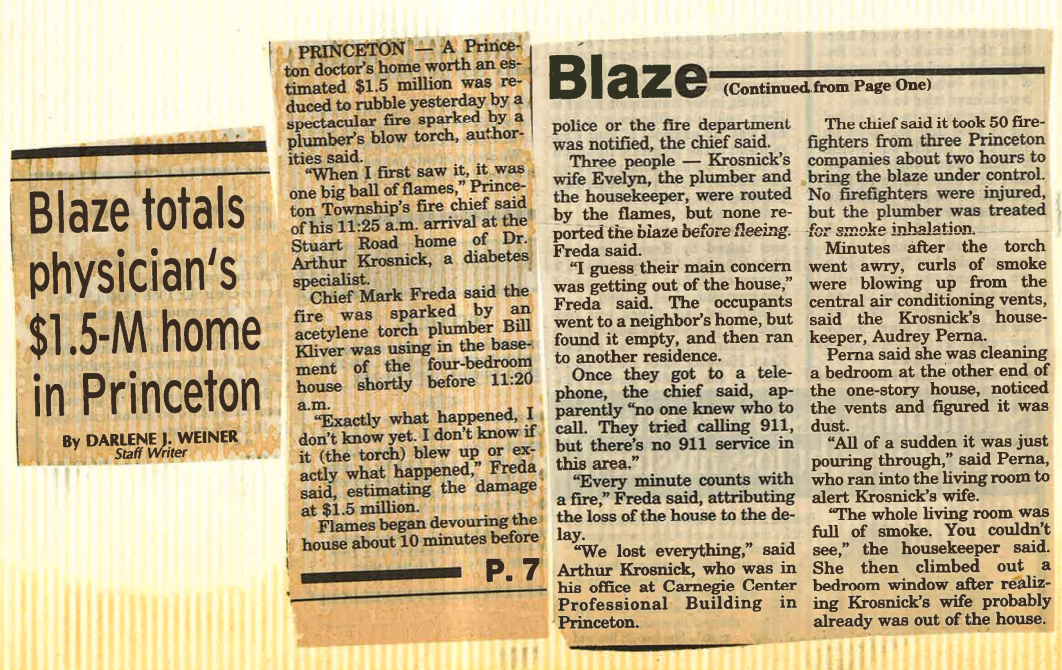 24 May, 1989 (~estimated)
Blaze total's physician's $1.5-M home in Princeton
Darlene J. Weiner
Staff Writer
PRINCETON — A Princeton doctor's home worth an estimated $1.5 million was reduced to rubble yesterday by a spectacular fire sparked by a plumber's blow torch, authorities said.
"When I first saw it, it was one big ball of flames," Princeton Township fire chief said of his 11:25 a.m. arrival at the Stuart Road home of Dr. Arthur Krosnick, a diabetes specialist.
Chief Mark Freda said the fire was sparked by an acetylene torch plumber Bill Kliver was using in the basement of the four-bedroom house shortly before 11:20
"Exactly what happened, I don't know yet. I don't know if it (the torch) blew up or exactly what happened," Freda said, estimating the damage at $1.5 million. Flames began devouring the house about 10 minutes before police or the fire department was notified, the chief said.
Three people — Krosnick wife Evelyn, the plumber and the housekeeper, were routed by the flames, but none reported the blase before fleeing. Freda said.
"I guess their main concern was getting out of the house," Freda said. The occupants went to a neighbor's home, but found it empty, and then ran to another residence.
Once they got to a telephone, the chief said, apparently "no one knew who to call. They tried rolling 911, but there's no 911 service in this area."
"Every minute counts with a fire," Freda said, attributing the loss of the house to the delay.
"We lost everything," said Arthur Krosnick, who was in his office at Carnegie Center Professional Building in Princeton.
The chief said it took 50 fire-fighters from three Princeton companies about two hours to bring the blaze under control. No firefighters were injured, but the plumber was treated -for smoke inhalation.
Minutes after the torch went awry, curls of smoke were blowing up from the central air conditioning vents, said the Krosnick housekeeper, Audrey Perna.
Perna said she was cleaning a bedroom at the other end of the one-story house, noticed the vents and figured it was dust.
"All of a sudden it was just pouring through," said Perna, who ran into the living room to alert Krosnick wife.
"The whole living room was full of smoke. You couldn't see," the housekeeper said. She then climbed out a bedroom window after realizing Krosnick wife probably already was out of the house.