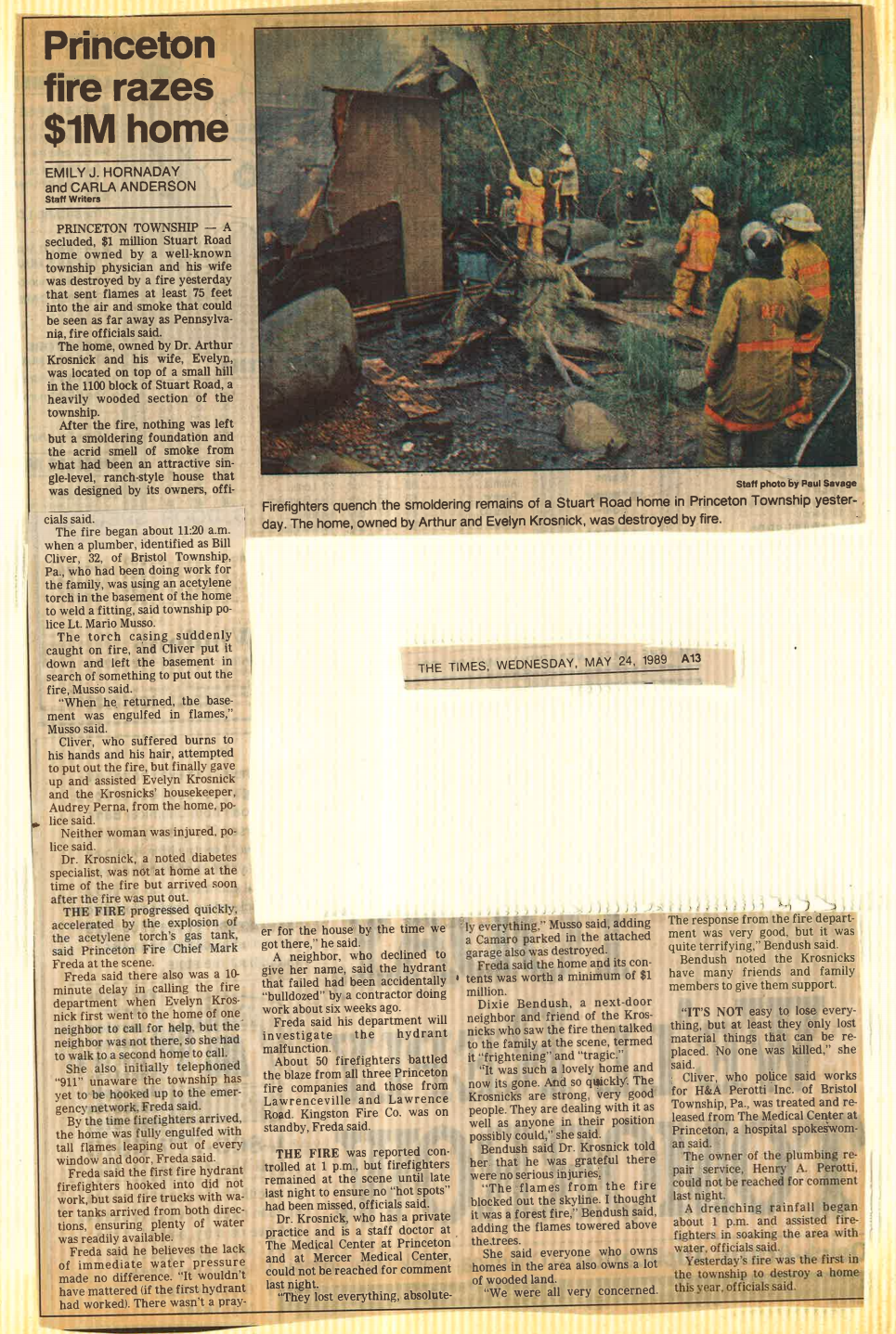 The Times
24 May, 1989
Princeton fire razes $1M home
Emily J. Hornday and Carla Anderson
Staff Writers
PRINCETON TOWNSHIP — A secluded, $1 million Stuart Road home owned by a well-known township physician and his wife was destroyed by a fire yesterday that sent flames at least 75 feet into the air and smoke that could be seen as far away as Pennsylvania, fire officials said.
The home, owned by Dr. Arthur Krosnick and his wife, Evelyn, was located on top of a small hill in the 1100 block of Stuart Road, a heavily wooded section of the township.
After the fire, nothing was left but a smoldering foundation and the acrid smell of smoke from what had been an attractive single-level, ranch-style house that was designed by its owners, officials said.
The fire began about 11:20 a.m. when a plumber, identified as Bill Cliver, n, of Bristol Township, Pa., who had been doing work for the family, was using an acetylene torch in the basement of the home to weld a fitting, said township police Lt. Mario Musso.
The torch casing suddenly caught on fire, and Clover put it down and left the basement in search of something to put out the fire, Musso said.
"When he returned, the basement was engulfed in flames," Musso said.
Cliver, who suffered burns to his hands and his hair, attempted to put out the fire, but finally gave up and assisted Evelyn Krosnick and the Krosnicks' housekeeper, Audrey Perna, from the home, po-lice said.
Neither woman was injured. po-lice said.
Dr. Krosnick, a noted diabetes specialist. was not at home at the time of the fire but arrived soon after the fire was put out.
THE FIRE progressed quickly, accelerated by the explosion of the acetylene torch gas tank, said Princeton Fire Chief Mark Freda at the scene.
Freda said there also was a 10- minute delay in calling the fire department when Evelyn Krosnick first went to the home of one neighbor to call for help. but the neighbor was not there, so she had to walk to a second home to call.
She also initially telephoned "911" unaware the township has yet to be hooked up to the emergency network, Freda said.
By the time firefighters arrived, the home was fully engulfed with tall flames leaping out of every window and door, Freda said.
Freda said the first fire hydrant firefighters hooked into did not work, but said fire trucks with water tanks arrived from both directions, ensuring plenty of water was readily available.
Freda said he believes the lack of immediate water pressure made no difference. "It wouldn't have mattered (if the first hydrant had worked). There wasn't a prayer for the house by the time we got there," he said.
A neighbor, who declined to give her name, said the hydrant that failed had been accidentally "bulldozed" by a contractor doing work about six weeks ago.
Freda said his department will investigate the hydrant malfunction.
About 50 firefighters battled the blaze from all three Princeton fire companies and those from Lawrenceville and Lawrence Road. Kingston Fire Co. was on standby, Freda said.
THE FIRE was reported controlled at 1 p.m., but firefighters remained at the scene until late last night to ensure no "hot spots" had been missed, officials said.
Dr. Krosnick, who has a private practice and is a staff doctor at The Medical Center at Princeton and at Mercer Medical Center, could not be reached for comment last night. 'They lost everything, absolutely everything," Musso said, adding a Camaro parked in the attached garage also was destroyed.
Freda said the home and its contents was worth a minimum of $1 million.
Dixie Bendush, a next-door neighbor and friend of the Krosnicks who saw the fire then talked to the family at the scene, termed it "frightening" and "tragic".
"It was such a lovely home and now its gone. And so gwickly. The Krosnicics are strong, very good people. They are dealing with it as well as anyone in their position possibly could," she said.
Bendush said Dr. Krosnick told her that he was grateful there were no serious injuries.
The flames from the fire blocked out the skyline. I thought it was a forest fire," Bendush said, adding the flames towered above the,trees.
She said everyone who owns homes in the area also owns a lot of wooded land. "We were all very concerned.
The response from the fire department was very good, but it was Guile Mott ying," Bondush said. Bendush noted the Krosnicks have many friends and family members to give them support.
"IT'S NOT easy to lose everything, but at least they only lost material things that can be replaced. No one was killed," she said.
Clive, who notice said works for NBA Perrati Inc. of Bristol Township. Pa., was treated and released from The Medical Center at Princeton, a hospital spokeswoman. an said.
The owner of the plumbing repair service. Henry A. Perotti, could not be reached for comment last night.
A drenching rainfall began about 1 p.m. and assisted firefighters, in soaking the area with water, officials said.
Yesterday's fire was the first in the township to destroy a home this  year, officials said.
---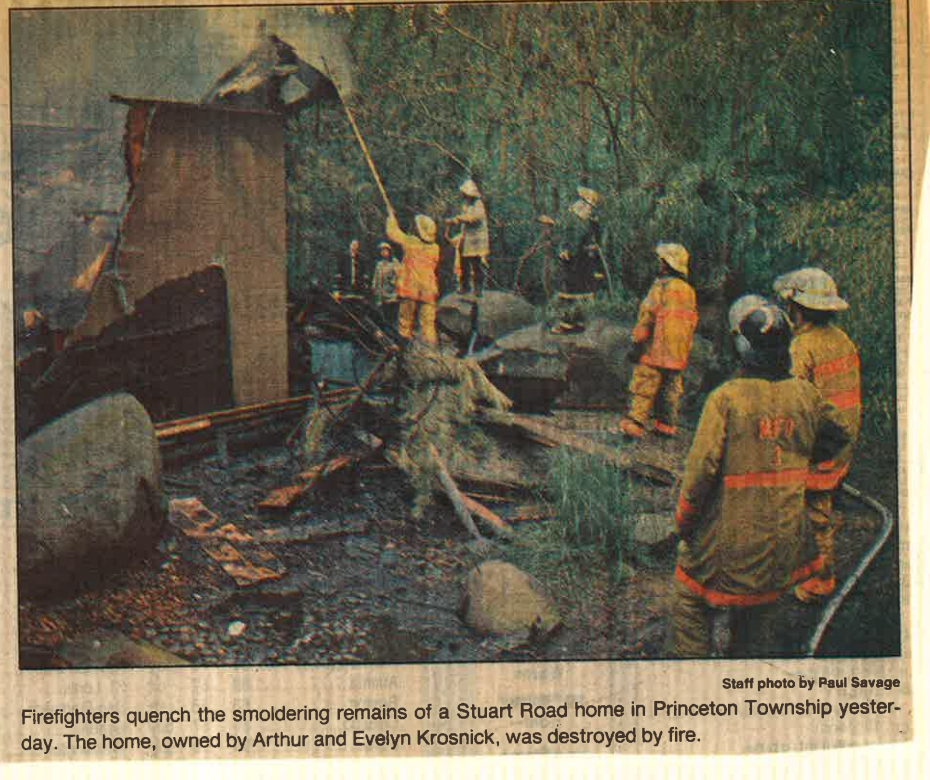 Staff photo by Paul Savage
Firefighters quench the smoldering remains of a Stuart Road home in Princeton Township yesterday. The home, owned by Arthur and Evelyn Krosnick, was destroyed by fire.