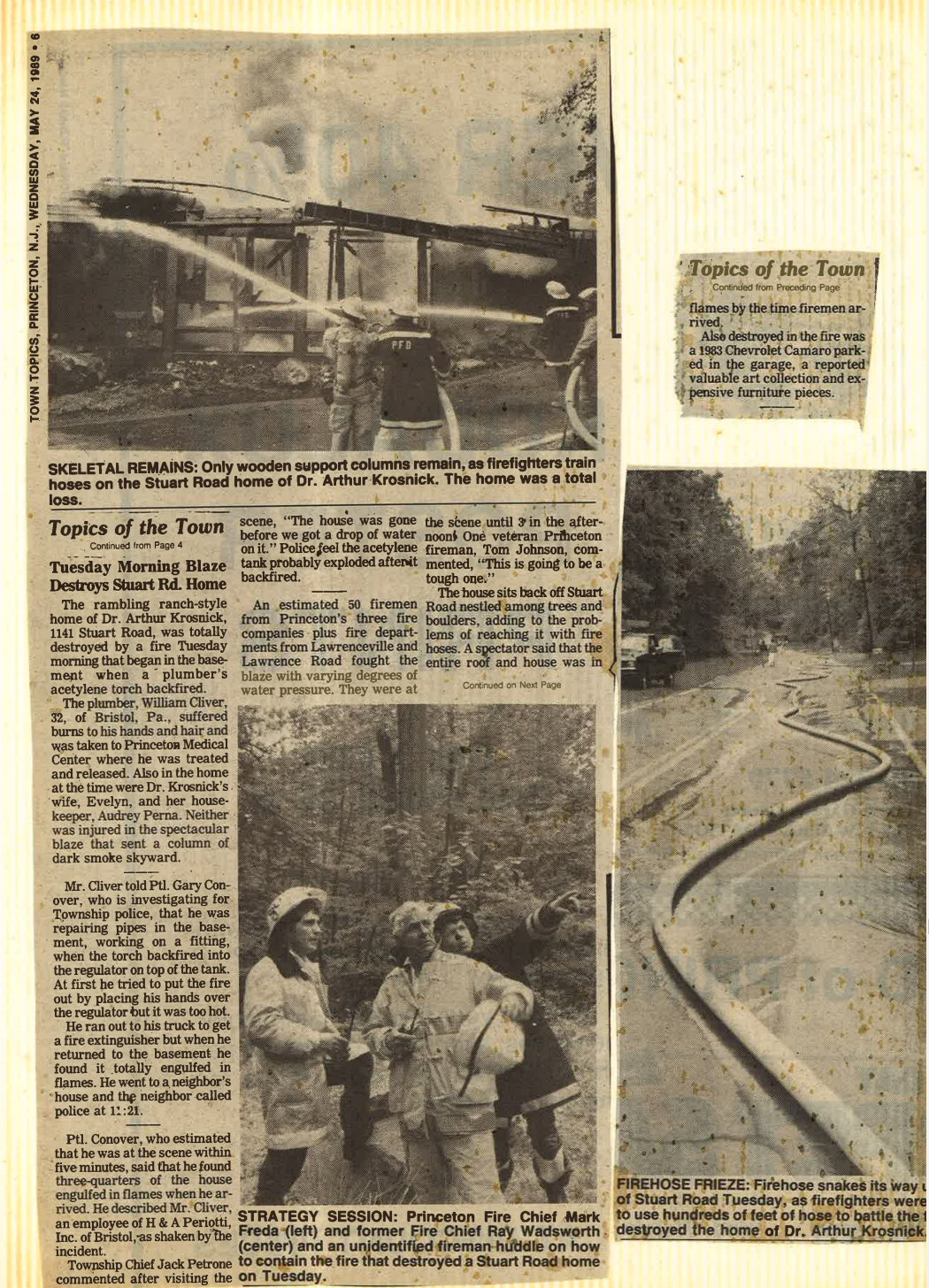 Town Topics
24 May, 1989
Tuesday Morning Blaze Destroys Stuart Rd. Home
The rambling ranch-style home of Dr. Arthur Krosnick, 1141 Stuart Road, was totally destroyed by a fire Tuesday morning that began in the basement when a plumber's acetylene torch backfired.
The plumber, William Cliver, 32, of Bristol, Pa., suffered burns to his hands and hair and was taken to Princeton Medical Center where he was treated and released. Also in the home at the time were Dr. ICrosnick's wife, Evelyn, and her housekeeper, Audrey Perna. Neither was injured in the spectacular blaze that sent a column of dark smoke skyward.
Mr. Cliver told PH Gary Con-over, who is investigating for Township police, that he was repairing pipes in the basement, working on a fitting, when the torch backfired into the regulator on top of the tank. At first he tried to put the fire out by placing his hands over the regulator but it was too hot.
He ran out to his truck to get a fire extinguisher but when he returned to the basement he found it totally engulfed in flames. He went to a neighbor's ' house and thg neighbor called police at 11:21.
Ptl. Conover, who estimated that he was at the scene within five minutes, said that he found three-quarters of the house engulfed in flames when he arrived. He described Mr. Cliver, an employee of H & A Periotti, Inc. of Bristol,ms shaken by the incident.
Township Chief Jack Petrone commented after visiting the scene, "The house was gone before we got a drop of water on it." Police feel the acetylene tank probably exploded after it backfired.
An estimated 50 firemen from Princeton's three fire companies plus fire departments from Lawrence Road fought the blaze with varying degrees of water pressure. They were at the scene until 3 in the afternoon. One veteran Princeton fireman, Tom Johnson, commented, "This is going to be a tough one."
The house sits back off Stuart Road nestled among trees and boulders, adding to the problems of reaching it with fire hoses. A spectator said that the entire roof and house was in flames by the time firemen arrived. Also destroyed in the fire was a 1983 Chevrolet Camaro parked in the garage, a reported valuable art collection and expensive furniture pieces.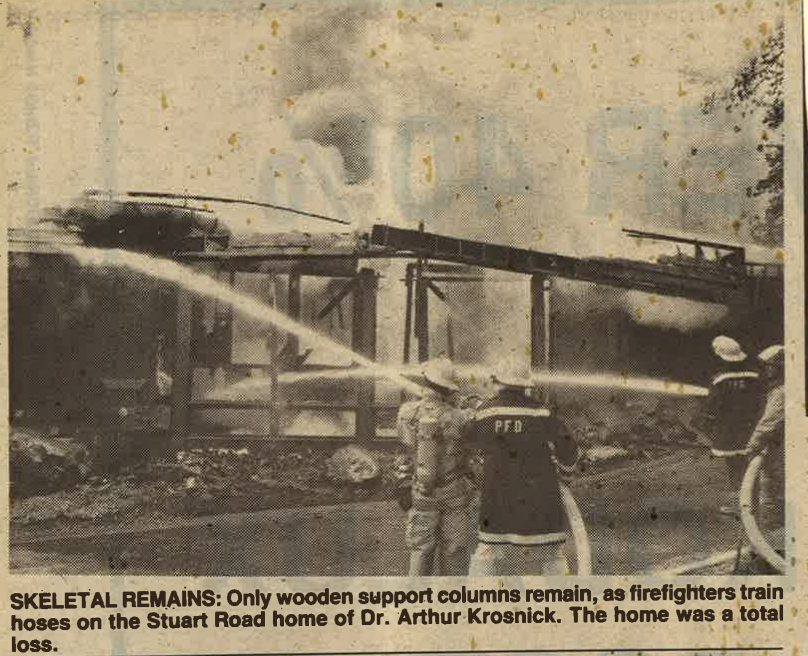 SKELETAL REMAINS: Only wooden support columns remain, as firefighters train hoses on the Stuart Road home of Dr. Arthur Krosnick. The home was a total loss.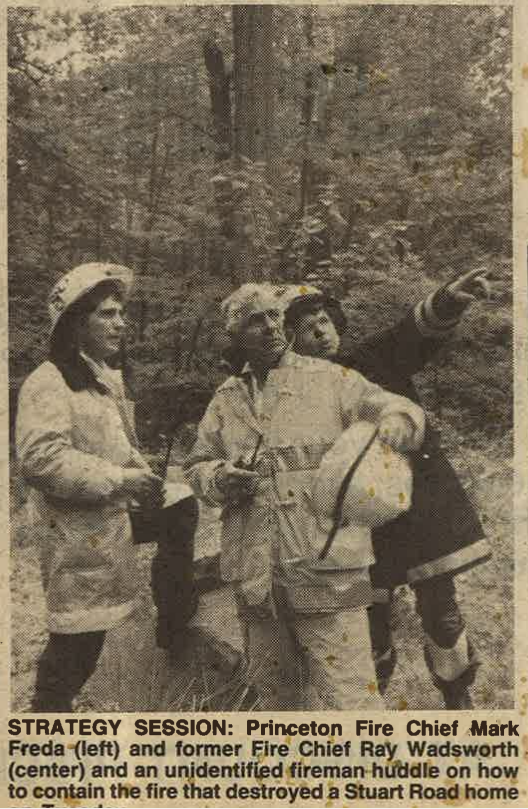 STRATEGY SESSION: Princeton Fire Chief Mark Freda (left) and former Fire Chief Ray Wadsworth (center) and an unidentified fireman huddle on how to contain the fire that destroyed a Stuart Road home.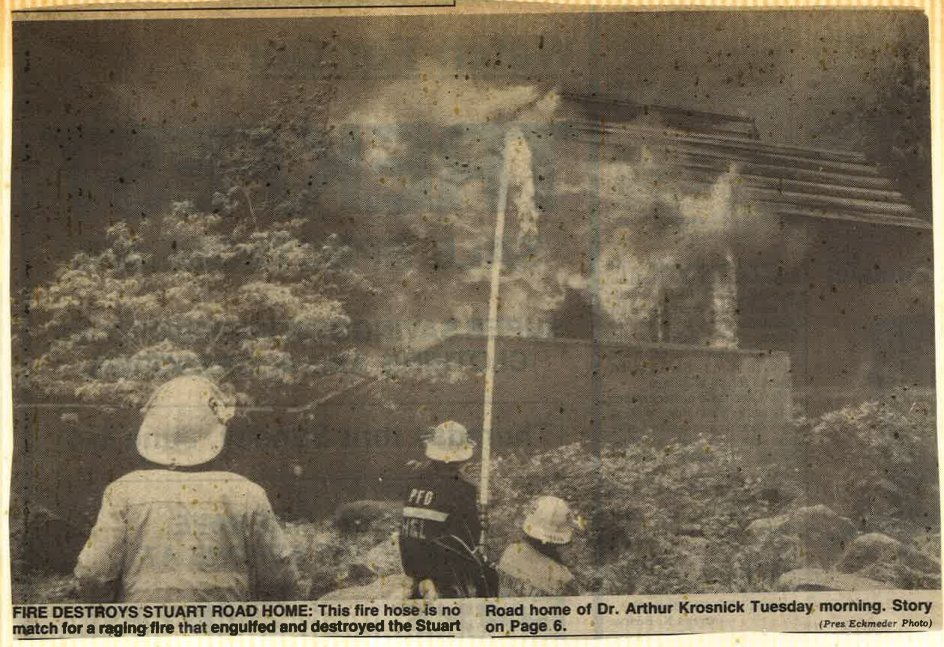 FIRE DESTROYS STUART ROAD HOME: This fire hose is no match for a raging fire that engulfed and destroyed the Stuart Road home of Dr. Arthur Krosnick Tuesday morning.