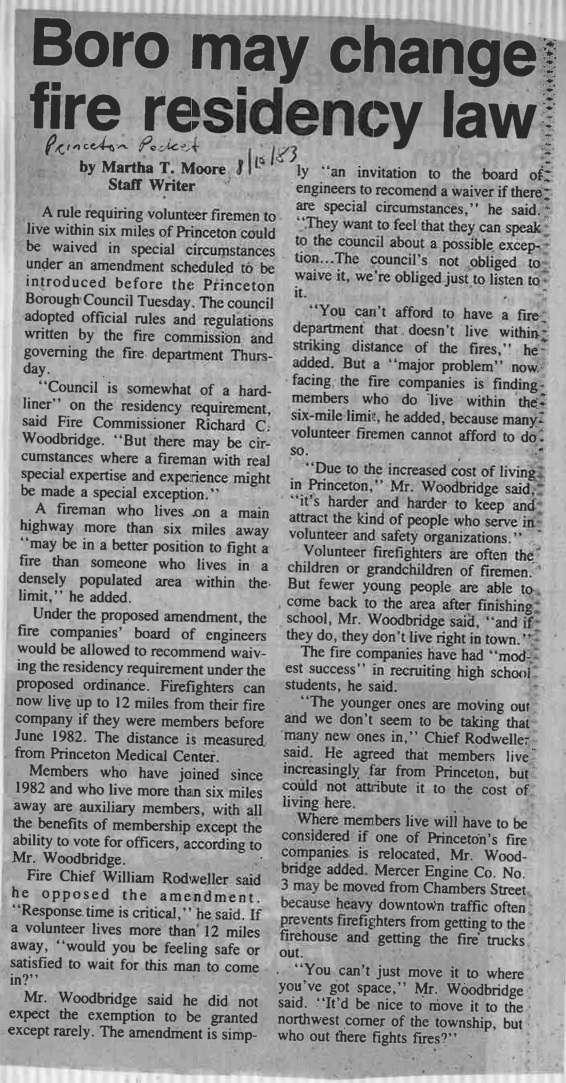 Princeton Packet
10 August 1983
Boro may change fire residency law
by Martha T. Moore
Staff Writer
A role requiring volunteer firemen to live within six miles of Princeton could be waived in special circumstances under an amendment scheduled to be introduced before the Princeton Borough Council Tuesday. The council adopted official roles and regulations written by the fire commission and governing the fire department Thursday.
"Council is somewhat of a hardliner" on the residency requirement, said Fire Commissioner Richard C. Woodbridgc. "But there may be circumstances where a fireman with real special expertise and experience might be made a special exception."
A fireman who lives on a main highway more than six miles away "may be in a better position to fight a fire than someone who lives in a densely populated area within the limit." he added.
Under the proposed amendment, the fire companies' board of engineers would be allowed to recommend waiving the residency requirement under the proposed ordinance. Firefighters can now live up to 12 miles from their fire company if they were members before June 1982. The distance is measured from Princeton Medical Center.
Members who have joined since 1982 and who live more than six miles away are auxiliary members, with all the benefits of membership except the ability to vote for officers, according to Mr. Woodbridge.
Fire Chief William Rodweller said he opposed the amendment. "Response time is critical." he said. If a volunteer lives more than 12 miles away, "would you be feeling safe or satisfied to wait for this man to come in?"
Mr. Woodbridge said he did not expect the exemption to be granted except rarely. The amendment is simply "an invitation to the board of; engineers to recommend a waiver if there are special circumstances," he said. "They want to feel that they can speak to the council about a possible exception… The council's not obliged to waive it, we're obliged just to listen to it.
"You can't afford to have a fire department that doesn't live within striking distance of the fires," he added. But a "major problem" now facing the fire companies is finding members who do live within the six-mile limit, he added, because many volunteer firemen cannot afford to do so.
"Due to the increased cost of living! in Princeton," Mr. Woodbridge said, "it's harder and harder to keep and attract the kind of people who serve in volunteer and safety organizations."
Volunteer firefighters are often the children or grandchildren of firemen.  But fewer young people are able to come back to the area after finishing school, Mr. Woodbridge said, "and if they do, they don't live right in town."
The fire companies have had "modest success" in recruiting high school students, he said.
"The younger ones are moving out and we don't seem to be taking that many new ones in," Chief Rodweller said. He agreed that members live increasingly far from Princeton, but could not attribute it to the cost of living here.
Where members live will have to be considered if one of Princeton's fire companies is relocated, Mr. Woodbridge added. Mercer Engine Co. No.
3 may be moved from Chambers Street because heavy downtown traffic often prevents firefighters from getting to the firehouse and getting the fire trucks out.
"You can't just move it to where you've got space Mr. Woodbridge said. "It'd be nice to move it to the northwest comer of the township, but who out there fights fires?"