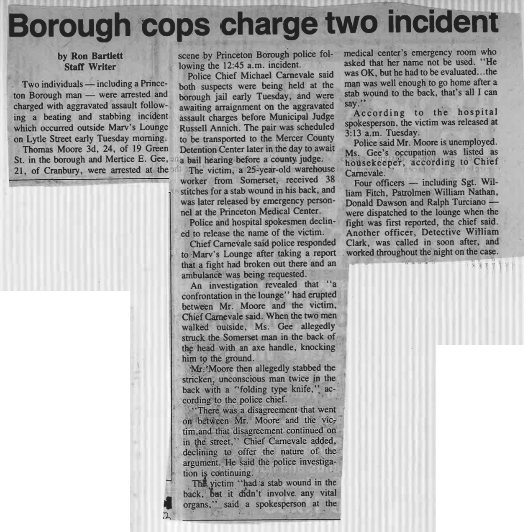 2 March 1983
(date estimated)
Borough cops charge two incident
by Ron Bartlett
Staff Writer
Two individuals — including a Prince- ton Borough man — were arrested and charged with aggravated assault following a beating and subbing incident which occurred outside Marv's Lounge on Lytle Street early Tuesday.
Thomas Moore 3d, 24, of 19 Green St. in the borough and Mertice E. Gee, 21, of Cranbury. were arrested at the scene by Princeton Borough police following the 12:45 a m. incident Police Chief Michael Carnevale said both suspects were being held at the borough jail early Tuesday, and were awaiting arraignment on the aggravated assault charges before Municipal Judge Russell Annich. The pair was scheduled to be transported to the Mercer County I Center laier in the day to awïit
The victim, a 25-year-old warehouse worker from Somerset, received 38 stitches for a stab wound in his back, and was later released by emergency personnel at the Princeton Medical Center.
Police and hospital spokesmen declined to release the name of the victim.
Chief Carnevale said police responded to Marv's Lounge after taking a report that a fight had broken out there and an ambulance was being requested.
An investigation revealed that "a confrontation in the lounge" had erupted between Mr. Moore and the victim, Chief Carnevale said. When the two men walked outside. Ms. Gee allegedly struck the Somerset man in the back of the head with an axe handle, knocking him to the ground.
Mr. Moore then allegedly stabbed the stricken, unconscious man twice in the back with a "folding type knife." according to the police chief.
"There was a disagreement that went on between Mr. Moore and the victim and that disagreement continued on in the street." Chief Carnevale added, declining to offer the nature of the argument. He said the police investigation is continuing.
The victim "had a stab wound in the back, bat it didn't involve any vital organs," said a spokesperson at the medical center's emergency room who asked that her name not be used. "He was OK, but he had to be evaluated…the man was well enough to go home after a stab wound to the back, that's all I can say."
According to the hospital spokesperson, the victim was released at 3:13 a.m. Tuesday.
Police said Mr. Moore is unemployed. Ms. Gee's occupation was listed as housekeeper, according to Chief Carnevale.
Four officers — including Sgt. William Fitch, Patrolmen William Nathan, Donald Dawson and Ralph Turciano — were dispatched to the lounge when the fight was first reported, the chief said. Another officer, Detective William Clark, was called in soon after, and worked throughout the night on the case.