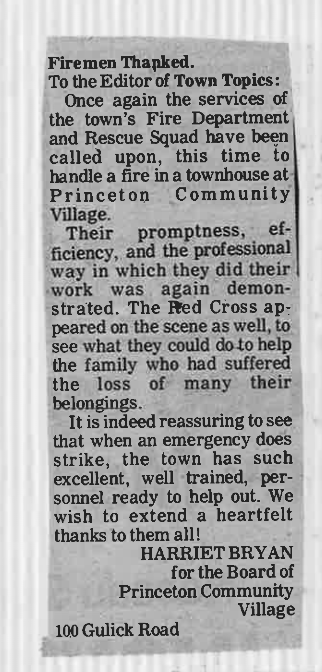 2 March 1983
(date estimated)
Firemen Thanked
To the Editor of Town Topics:
Once again the services of the town's Fire Department and Rescue Squad have been called upon, this time to handle a fire in a townhouse at Princeton Community Village.
Their promptness, efficiency, and the professional way in which they did their work was again demonstrated. The Red Cross appeared on the scene as well, to see what they could do to help the family who had suffered the loss of many their belongings.
It is indeed reassuring to see that when an emergency does strike, the town has such excellent, well trained, personnel ready to help out. We wish to extend a heartfelt thanks to them all!
HARRIET BRYAN
for the Board of
Princeton Community
Village
100 Gulick Road