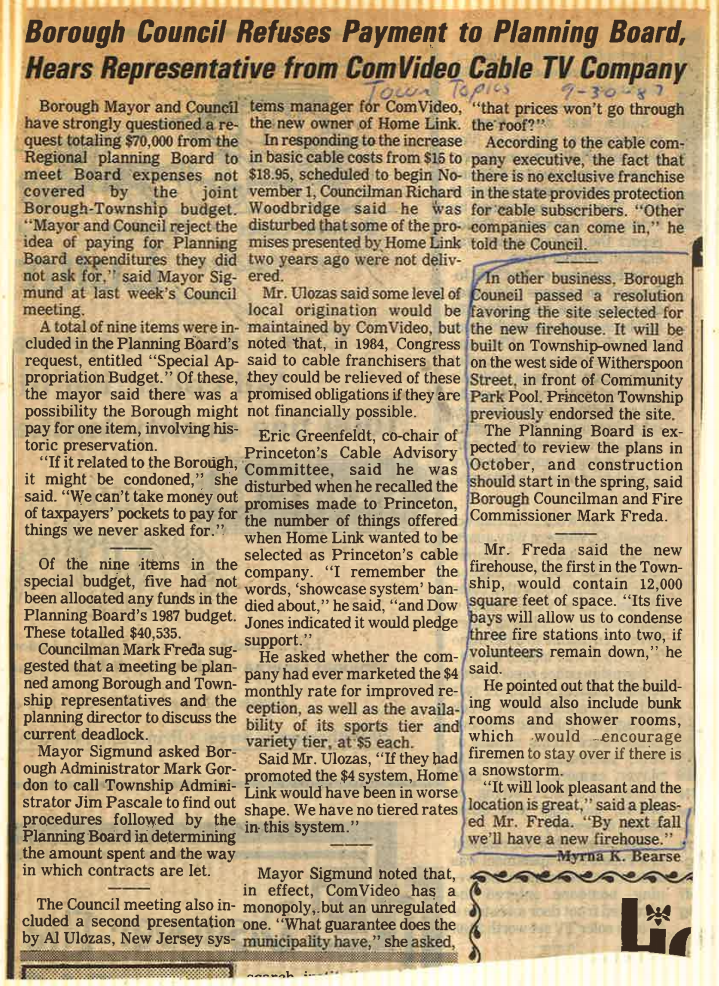 Town Topics
30 September, 1987
Borough Council Refuses Payment to Planning Board, Hears Representative from ComVideo Cable TV Company
Myrna L. Bearse
Borough Mayor and Council have strongly questioned a re-quest totaling $70,000 from the Regional planning Board to meet Board expenses not covered by the joint Borough-Township budget. "Mayor and Council reject the idea of paying for Planning Board expenditures they did not ask for." said Mayor Sigmund at last week's Council meeting.
A total of nine items were included in the Planning Board's request, entitled "Special Appropriation Budget." Of these, the mayor said there was a possibility the Borough might pay for one item, involving historic preservation.
"If it related to the Borcich, it might be condoned," she said. "We can't take money out of taxpayers' pockets to pay for things we never asked for."
Of the nine items in the special budget, five had not been allocated any funds in the Planning Board's 1987 budget. These totalled $40,535.
Councilman Mark Freda suggested that a meeting be planned among Borough and Township representatives and the planning director to discuss the current deadlock.
Mayor Sigmund asked Borough Administrator Mark Gordon to call Township Administrator Jim Pascale to find out procedures followed by the Planning Board in determining the amount spent and the way in which contracts are let.
The Council meeting also included a second presentation by Al Ulozas, New Jersey systems manager for ComVideo, the new owner of Home Link.
In responding to the increase in basic cable costs from $16 to $18.95, scheduled to begin November 1, Councilman Richard Woodbridge said he was disturbed that some of the promises presented by Home Link two years ago were not delivered.
Mr. Ulozas said some level of local origination would be maintained by ComVideo, but noted that, in 1984, Congress said to cable franchisers that they could be relieved of these promised obligations if they are not financially possible.
Eric Greenfeldt, co-chair of Princeton's Cable Advisory Committee. said he was disturbed when he recalled the promises made to Princeton, the number of things offered ) when Homelink wanted to be selected as Princeton's cable company. "I remember the words, 'showcase system' bandied about," he said, "and Dow Jones indicated it would pledge support."
He asked whether the company had ever marketed the $4 monthly rate for improved reception, as well as the availability of its sports her and variety tier, at $5 each.
Said Mr. Ulozas, "If they bad promoted the $4 system, Home Link would have been in worse shape. We have no tiered rates in this System."
Mayor Sigmund noted that, in effect, ComVideo has a monopoly, but an unregulated one. "What guarantee does the municipality have," she asked,  "that prices won't go through the roof?"
According to the cable company executive, the fact that there is no exclusive franchise in the state provides protection for cable subscribers. "Other companies can come in," he told the Council.
In other business, Borough council passed a resolution favoring the site selected for the new firehouse. It will be built on Township-owned land on the west side of Witherspoon Street, in front of Community Park Pool, Princeton Township previously endorsed the site.
The Planning Board is expected to review the plans in October, and construction should start in the spring, said Borough Councilman and Fire Commissioner Mark Freda.
Mr. Freda said the new firehouse, the first in the Town-ship, would contain 12,000 square feet of space. "Its five bays will allow us to condense three fire stations into two, if volunteers remain down," he said.
He pointed out that the build-ing would also include bunk rooms and shower rooms, which -would -encourage Firemen to stay over if there is a snowstorm. "It will look pleasant and the location is great," said a pleased Mr. Freda. "By next fall we'll have a new firehouse."