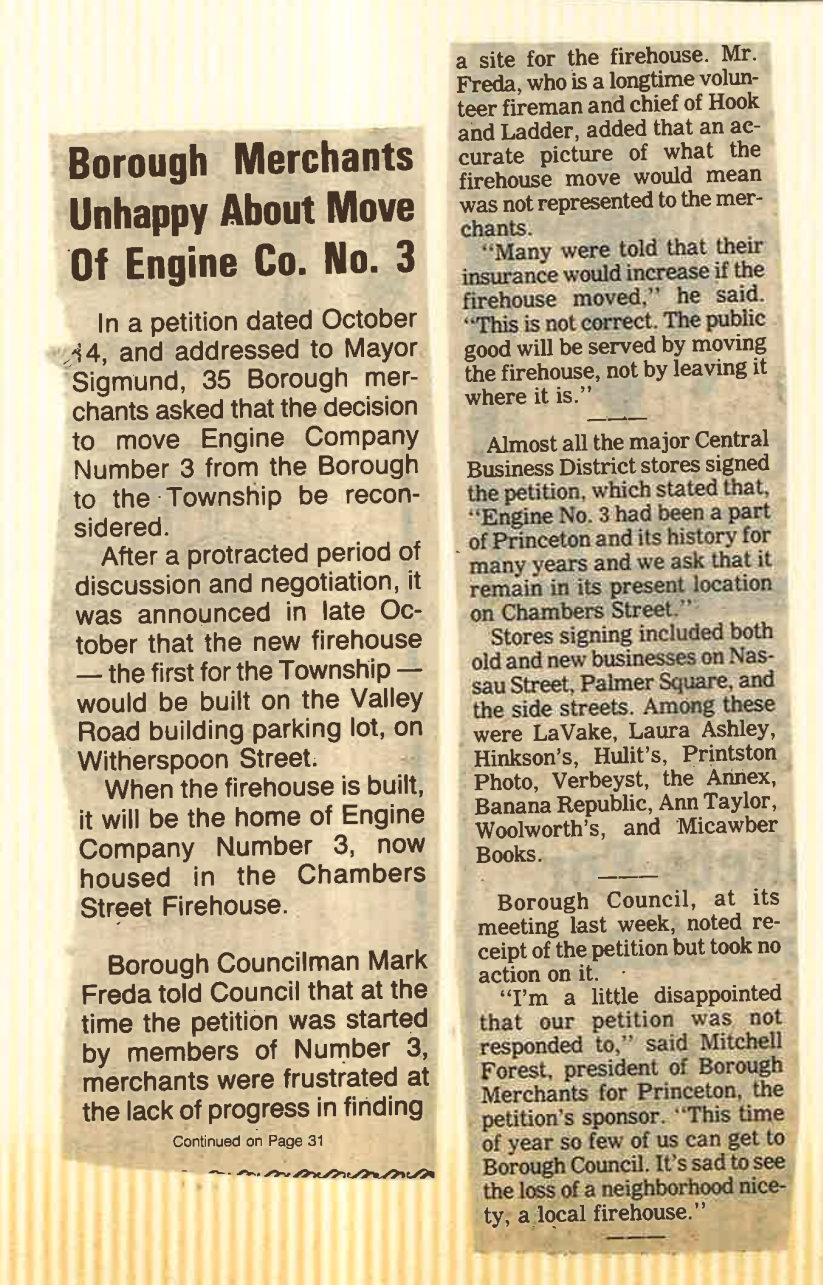 12 December, 1988 (~estimated)
Borough Merchants Unhappy About Move Of Engine Co. No. 3
In a petition dated October ,14, and addressed to Mayor Sigmund, 35 Borough merchants asked that the decision to move Engine Company Number 3 from the Borough to the Township be reconsidered.
After a protracted period of discussion and negotiation, it was announced in late October that the new firehouse — the first for the Township —would be built on the Valley Road building parking lot, on Witherspoon Street.
When the firehouse is built, it will be the home of Engine Company Number 3, now housed in the Chambers Street Firehouse.
Borough Councilman Mark Freda told Council that at the time the petition was started by members of Number 3, merchants were frustrated at the lack of progress in finding a site for the firehouse. Mr. Freda, who is a longtime volunteer fireman and chief of Hook and Ladder, added that an accurate picture of what the firehouse move would mean was not represented to the merchants.
"Many were told that their insurance would increase if the firehouse moved," he said. "This is not correct. The public good will be served by moving the firehouse, not by leaving it where it is."
Almost all the major Central Business District stores signed the petition, which stated that, "Engine No. 3 had been a part of Princeton and its history for many years and we ask that it remain in its present location on Chambers Street."
Stores signing included both old and new businesses on Nassau Street, Palmer Square, and the side streets. Among these were LaVake, Laura Ashley, Hinkson's, Hulit's, Princeton Photo, Verbeyst, the Annex, Banana Republic, Ann Taylor, Woolworth's, and Micawber Books.
Borough Council, at its meeting last week, noted receipt of the petition but took no action on it.
"I'm a little disappointed that our petition was not responded to," said Mitchell Forest, president of Borough Merchants for Princeton, the petition's sponsor. "This time of year so few of us can get to Borough Council. It's sad to see the loss of a neighborhood nice-ty, a local firehouse."