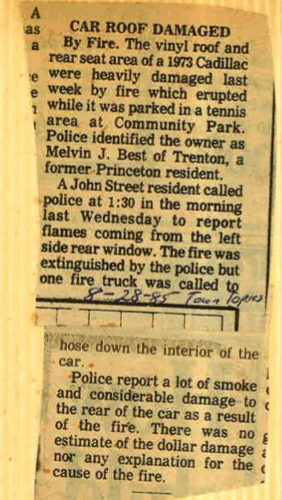 Town Topics
28 August, 1985
CAR ROOF DAMAGED By Fire
The vinyl roof and rear seat area of a 1971 Cadillac were heavily damaged last week by fire which erupted while it was parked in a tennis area at Community Park. Police identified the owner as Melvin J. Best of Trenton, a former Princeton resident.
A John Street resident called police at 1:30 in the morning last Wednesday to report flames coming from the left side rear window. The fire was extinguished by the police but one fire truck was called to hose down the interior of the car.
Police report a lot of smoke and considerable damage to the rear of the car as a result of the fire. There was no estimate of the dollar damage nor any explanation for the cause of the fire.