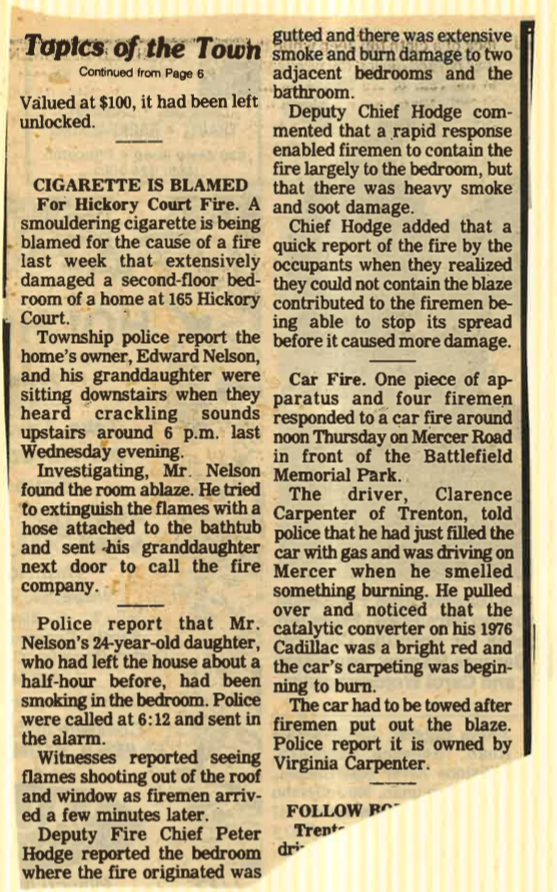 Princeton Packet
25 October, 1985
CIGARETTE IS BLAMED For Hickory Court Fire
A smoldering cigarette is being blamed for the cause of a fire last week that extensively damaged a second-floor bed-room of a home at 165 Hickory Court.
Township police report the home's owner, Edward Nelson, and his granddaughter were sitting downstairs when they heard crackling sounds upstairs around 6 p.m. last Wednesday evening.
Investigating, Mr Nelson found the room ablaze. He tried to extinguish the flames with a hose attached to the bathtub and sent -his granddaughter next door to call the fire company.
***
Police report that Mr. Nelson's 24-year-old daughter, who had left the house about a half-hour before, had been smoking in the bedroom. Police were called at 6:12 and sent in the alarm.
Witnesses reported seeing flames shooting out of the roof and window as firemen arrived a few minutes later.
Deputy Fire Chief Peter Hodge reported the bedroom where the fire originated was gutted and there was extensive smoke and burn damage to two adjacent bedrooms and the bathroom.
Deputy Chief Hodge commented that a rapid response enabled firemen to contain the fire largely to the bedroom, but that there was heavy smoke and soot damage.
Chief Hodge added that a quick report of the fire by the occupants when they realized they could not contain the blaze contributed to the firemen being able to stop its spread before it caused more damage.   
***
Car Fire. One piece of apparatus and four firemen responded to a car fire around noon Thursday on Mercer Road in front of the Battlefield Memorial Park.
The driver, Clarence Carpenter of Trenton, told police that he had just filled the car with gas and was driving on Mercer when he smelled something burning. He pulled over and noticed that the catalytic converter on his 1976 Cadillac was a bright red and the car's carpeting was beginning to burn.
The car had to be towed after firemen put out the blaze. Police report it is owned by Virginia Carpenter.