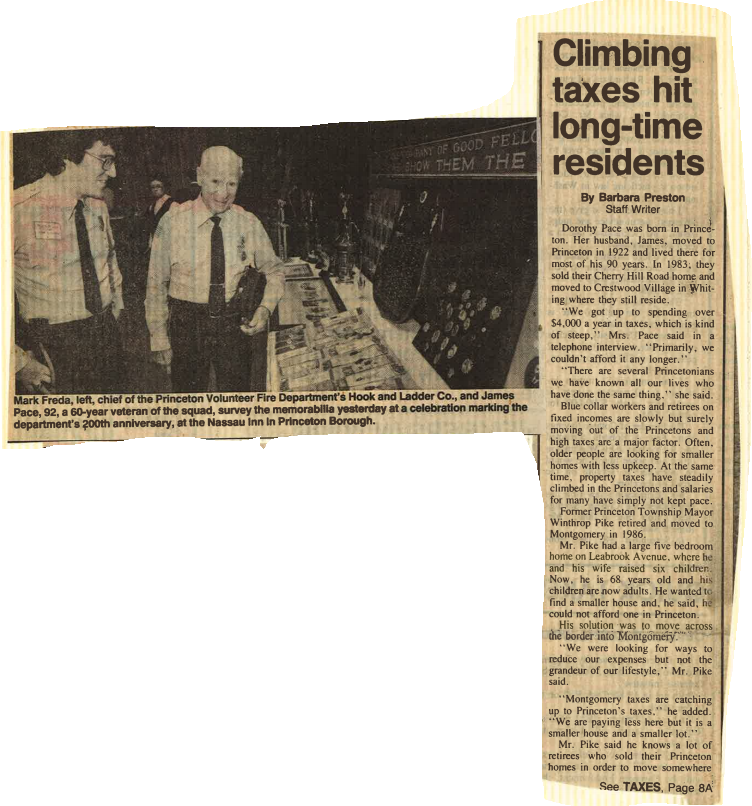 Mark Freda, left, chief of the Princeton Volunteer Fire Department's Hook and Ladder Co., and James Pace, 92, a 50-year veteran of the squad, survey the memorabilia yesterday at a celebration marking the department's 200th anniversary, at the Nassau Inn in Princeton Borough.
12 February, 1988 (~estimated)
Climbing taxes hit long-time residents
By Barbara Preston
Staff Writer
Dorothy Pace was born in Princeton. Her husband, James, moved to Princeton in 1922 and lived there be most of his 90 years. In 1983, they sold their Cherry Hill Road home and moved to Crestwood Village in Whiting where they still reside.
"We got up to spending over $4,000 a year in taxes. which is kind of steep," Mr. Pace said in a telephone "Primarily,we couldn't afford a longer."
"There are several Princetonians we have known all our lives who have done the same thing." she said.
Blue collar workers and retirees on fixed incomes are slowly but surely moving but of the Princeton and high taxes are a major factor. Often, older people are looking for smaller homes with less upkeep. At the same time, property taxes have steadily limbed in the Princetons and salaries for many have simply not kept pace. Former Princeton Township Mayor Winthrop Pike retired and moved to Montgomery in 1986.
Mr. Pike had a large five bedroom home on Leabrook Avenue where he and his wife raised six children. Now, he is 68 years old and his children are now adults. He wanted to find a smaller house and, he said, he could not afford one in Princeton.
His solution was to move across the border into Montgomery.
"We were looking for ways to reduce our expenses but not the grandeur of our lifestyle," Mr. Pike said.
"Montgomery taxes are catching up to Princeton's taxes," he added. "We are paying less here but it is a smaller house and a smaller lot."
Mr.Pike said he knows a lot of retirees who sold thier Princeton homes in order to move somewhere…