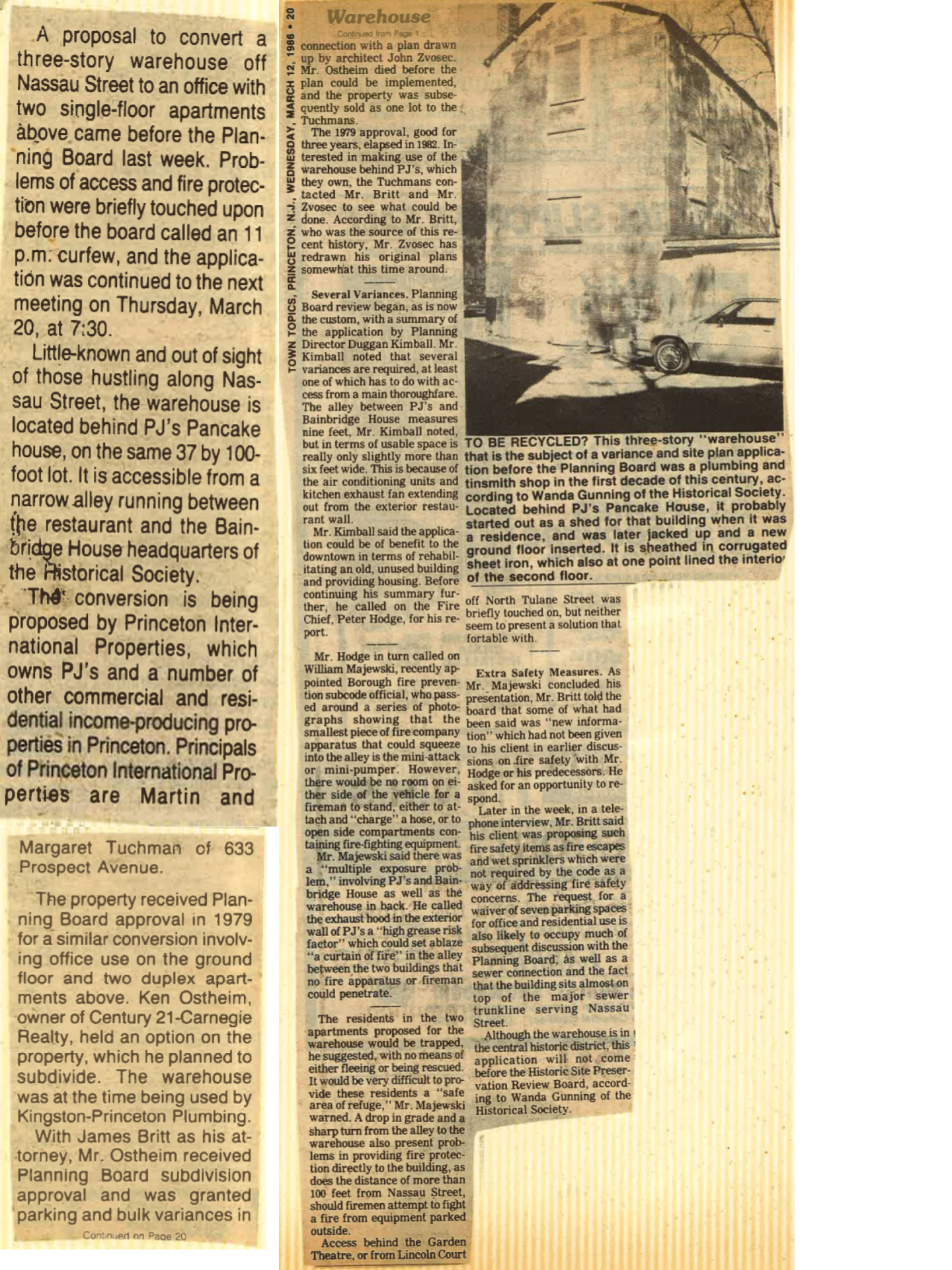 TO BE RECYCLED? This three-story warehouse that is the subject of a variance and site plan application before the Planning Board was a plumbing and tinsmith shop in the first decade of this century, according to Wanda Gunning of the Historical Society. Located behind PJ's Pancake House, it probably started out as a shed for that building when it was a residence and was later jacked up and a new ground floor inserted. It is sheathed in corrugated sheet iron, which also at one point lined the interior of the second floor. 
Town Topics
12 March, 1986
Conversion of Warehouse Proposed Into Two Apartments and an Office
A proposal to convert a three-story warehouse off Nassau Street to an office with two single-floor apartments above came before the Planning Board last week. Problems of access and fire protection were briefly touched upon before the board called an 11 p.m. curfew, and the application was continued to the next meeting on Thursday, March 20 at 7:30. 
Little-known and out of sight of those hustling along Nassau Street, the warehouse is located behind PJ's Pancake house on the same 37 by 100-foot lot. It is accessible from a narrow alley running between the restaurant and the Bainbridge House headquarters of the Historical Society. 
The conversion is being proposed by Princeton International Properties, which owns PJ's and a number of other commercial and residential income-producing properties in Princeton. Principals of Princeton International Properties are Martin and 
Margaret Tuchman of 633 Prospect Avenue. 
The property received Planning Board approval in 1979 for a similar conversion involving office use on the ground floor and two duplex apartments above. Ken Ostheim, owner of Century 21-Carnegie Realty, held an option on the property, which he planned to subdivide. The warehouse was at the time being used by Kingston-Princeton Plumbing. 
With James Britt as his attorney, Mr. Ostheim received Planning Board subdivision approval and was granted parking and bulk variances in connection with a plan drawn up by architect John Zvosec. Mr. Ostheim died before the plan could be implemented, and the property was subsequently sold as one lot to the Tuchmans. 
The 1979 approval, good for three years, elapsed in 1982. Interested in making use of the warehouse behind PJ's, which they own, the Tuchmans contacted Mr. Britt and Mr. Zvosec to see what could be done. According to Mr. Britt, who was the source of this recent history, Mr. Zvosec has redrawn his original plans somewhat this time around.
Several variances. Planning Board review began, as is now the custom, with a summary of the application by Planning Director Duggan Kimball. Mr. Kimball noted that several variances are required, at least one of which has to do with access from a main thoroughfare. The alley between PJ's and Bainbridge House measures nine feet, Mr. Kimball noted, but in terms of usable space is really only slightly more than six feet wide. This is because of the air conditioning units and kitchen exhaust fan extending out from the exterior restaurant wall. 
Mr. Kimball said the application could be of benefit to the downtown in terms of rehabilitating an old, unused building and providing housing. Before continuing his summary further, he called on the Fire Chief, Peter Hodge, for his report.
Mr. Hodge, in turn, called on William Majeski, recently appointed Borough fire prevention subcode official, who passed around a series of photographs showing that the smallest piece of fire company apparatus that could squeeze into the alley is the mini-attack or mini-pumper. However, there would be no room on either side of the vehicle for a fireman to stand, either to attach and "charge" a hose or to open side compartments containing fire-fighting equipment. 
Mr. Majewski said there was a "multiple exposure problem," involving PJ's and Bainbridge House as well as the warehouse in the back. He called the exhaust hood in the exterior wall of PJ's a "high grease risk factor" which could set ablaze "a curtain of fire" in the alley between the two buildings that no fire apparatus or fireman could penetrate. 
The residents in the two apartments proposed for the warehouse would be trapped, he suggested, with no means of either fleeing or being rescued. It would be very difficult to provide these residents a "safe area of refuge," Mr. Majewski warned. A drop in grade and a sharp turn from the alley to the warehouse also present problems in providing fire protection directly to the building, as does the distance of more than 100 feet from Nassau Street, should firemen attempt to fight a fire from equipment parked outside. 
Access behind the Garden Theatre, or from Lincoln Court off North Tulane Street was briefly touched on, but neither seem to present a solution that [comfortble] with. 
Extra Safety Measures. As Mr. Majewski concluded his presentation, Mr. Britt told the board that some of what had been said was "new information" which had not been given to his client in earlier discussions on fire safety with Mr. Hodge or his predecessors. He asked for an opportunity to respond.
 Later in the week, in a telephone interview, Mr. Britt said his client was proposing such fire safety items as fire escapes and wet sprinklers which were not required by the code as a way of addressing fire safety concerns. The request for a waiver of seven parking spaces for office and residential use is also likely to occupy much of subsequent discussion with the Planning Board, as well as a sewer connection and the fact that the building sits almost on top of the major sewer trunkline serving Nassau Street.
 Although the warehouse is in the central historic district, this application will not come before the Historic Site Preservation Review Board, according to Wanda Gunning of the Historical Society.