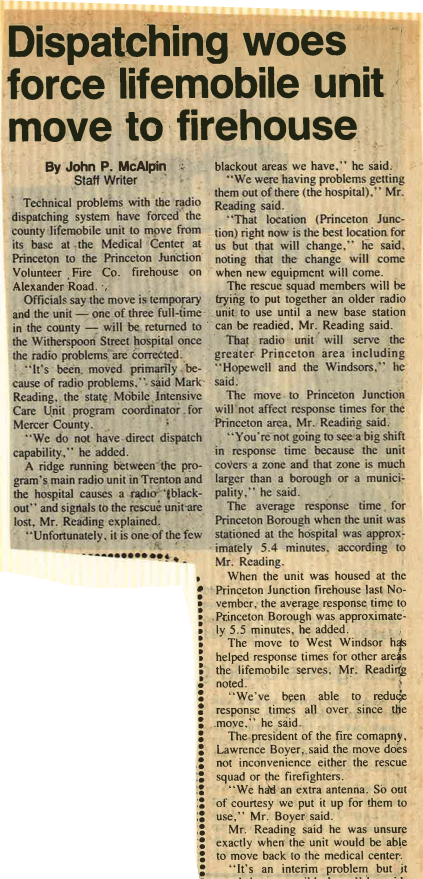 20 March, 1987
Dispatching woes force lifemobile unit move to firehouse
Technical problems with the radio dispatching system have forced the county lifemobile unit to move from its base at the Medical Center at Princeton to the Princeton Junction Volunteer Fire Co. firehouse on Alexander Road.
Officials say the move is temporary and the unit — one of three full-time in the county — will be returned to the Witherspoon Street hospital once the radio problems arc corrected.
"It's been moved primarily because of radio problems." said Mark Reading. the state While Intensive Care Unit program coordinator for Mercer County.
"We do not have direct dispatch capability," he added.
A ridge running between the program's main radio unit in Trenton and the hospital causes a radio blackout" and signals to the rescue unit-are lost. Mr. Reading explained. "
Unfortunately, it is one of the few blackout areas we have," he said.
"We were having problems getting them out of there (the hospital)." Mr. Reading said.
"That location (Princeton Junction) right now is the best location for us but that will change," he said. noting that the change will come when new equipment will come.
The rescue squad members will be trying to put together an older radio unit to use until a new base station can be readied, Mr., Reading said.
That radio unit will serve the greater Princeton area including "Hopewell and the Windsors," he said.
The move to Princeton Junction will not affect response times for the Princeton area. Mr. Reading said.
"You're not going to see a big shift in response time because the unit coVers a zone and that zone is much larger than a borough or a municipality." he said.
The average response time for Princeton Borough when the unit was stationed at the hospital was approximately 5.4 minutes. according to Mr. Reading.
When the unit was housed at the Princeton Junction firehouse last November, the average response time to .Princeton Borough was approximately 5.5 minutes, he added.
The move to West Windsor has helped response times for other areas the lifemobile serves, Mr. Readirts noted.
"We've been able to redo* response times all over since the .move." he said.
The president of the fire company, Lawrence Boyer,,said the move does not inconvenience either the rescue squad or the firefighters.
"We had an extra antenna. SO out of courtesy we put it up for them to use," Mr. Boyer said.
Mr. Reading said he was unsure exactly when the unit would be able to move back to the medical center.
"It's an interim problem but it won't be too terribly long," he said.