Town Topics
23 October 1983
Topics of the Town
Driver falls asleep
Car Strikes Pole. A 20-year- old driver from Lambertville and his 19-year-old passenger from Pennington were injured late Saturday night when the driver fell asleep at the wheel and their car struck a pole on Rosedale Road. 75 feet from Province Line Road.
The driver, Rodman Badakhsh, was issued a summons by Ptl. David. Cromwell for careless driving. He sustained chest injuries and fractures. His passenger, Kim Lesnever, 124 Weldon Way, received lacerations of the face. Both were taken by the Princeton First Aid Squad to the Medical Center of Princeton where they were admitted for treatment.
A hospital spokesman said Tuesday that Mr. Badakhsh's condition is satisfactory; Miss Lesnever has been discharged. The 1972 sedan in which they were riding in the 11:37 mishap is a total loss.
---
Motorcyclist Hurt.
Wayne A. Van Hise, 17, of Trenton, was injured early last week when he was involved in a motorcycle accident, on Alexander Street.
The victim told police that the windshield of his 1976 Honda cycle had become fogged, causing him to lose sight of the roadway. His cycle struck the curb near West Drive and fell over, skidding for 84 feet before coming to  rest.
Mr. Van Hise was transported by a passing motorist to the Medical Center where he was treated for bruises and contusions of the head. Ptl. John S. Seeley, who investigated the accident, made no charges.
---
Driver. Pedestrian Charged.
A driver and a pedestrian were both issued summonses, following an accident last week on Nassau Street.
According to police, William M. Aron, 21, of Stamford, Ct., standing on the south curb of Nassau Street opposite S. Tulane Street, ran into the street from between two cars stopped in traffic. He ran into the path of a car operated by Anne S. Stockton of 32 Chambers and was struck on the left hip. It was windy and there was a heavy rain at the time.
Ptl. Ralph Terraccino charged Mr. Aron with failing to cross in a crosswalk; Mrs. Stockton with operating an unregistered vehicle.
---
Three-Car Crash.
One driver was injured following a three-car crash Thursday on Washington Road.
A car driven by C.E. Carson of Hamilton Square had stopped to turn into the driveway of the Palmer Physics Lab on the University campus. A car following behind and slowing down, operated by Lorraine T. Haas of East Windsor, was struck in the rear by a third car driver who did not see the traffic line stop.
The driver, Katherine C. Heidere, 46, 206 Snowden Lane, struck her head against the windshield on impact. Charged with careless driving by Ptl. Chris Boutote, Ms. Heidere was taken to the hospital and treated for a contusion of the forehead and a fracture of the right index finger.
The front end of her small 1981 sedan was heavily damaged — possibly "totalling" the car. The other two cars were driven from the scene.
---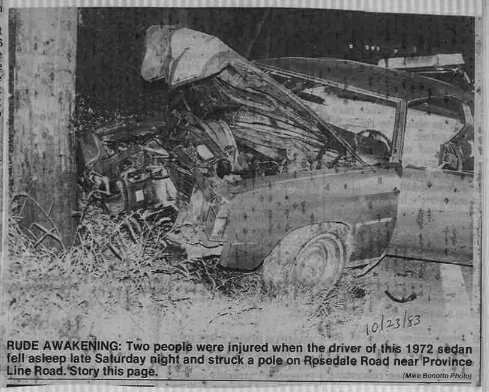 RUDE AWAKENING: Two people were injured when the driver of this 1972 sedan fell asleep late Saturday night and struck a pole on Rosedale Road near Province Line Road. Story this page.
(Mike Bonotto Photo)