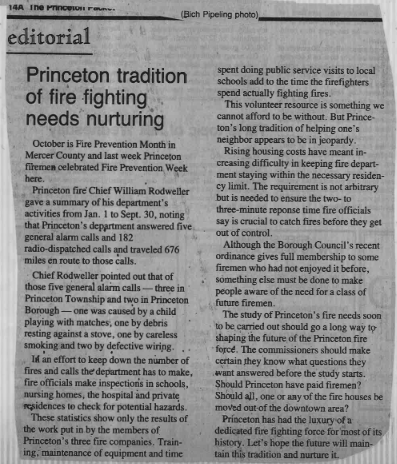 Princeton Packet
21 October 1983
Editorial: 
Princeton tradition of fire fighting needs nurturing
October is Fire Prevention Month in Mercer County and last week Princeton
firemen celebrated Fire Prevention Week fire Chief William Rodweller gave a summary of his department's activities from Jan. 1 to Sept. 30, noting that Princeton's department answered five general alarm calls and 182 radio dispatched calls and traveled 676 miles en route to those calls.
Chief Rodweller pointed out that of those five general alarm calls — three in Princeton Township and two in Princeton Borough — one was caused by a child playing with matches, one by debris resting against a stove, one by careless smoking and two by defective wiring.
In an effort to keep down the number of fires and calls the department has to make, fire officials make inspections in schools, nursing homes, the hospital and private residences to check for potential hazards.
These statistics show only the results of the work put in by the members of Princeton's three fire companies. Training, maintenance of equipment and time spent doing public service visits to local schools add to the time the firefighters spend actually fighting fires.
This volunteer resource is something we cannot afford to be without. But Princeton's long tradition of helping one's neighbor appears to be in jeopardy.
Rising housing costs have meant increasing difficulty in keeping fire department staying within the necessary residency limit. The requirement is not arbitrary but is needed to ensure the two-to three-minute response time fire officials say is crucial to catch fires before they get out of control.
Although the Borough Council's recent ordinance gives full membership to some firemen who had not enjoyed it before, something else must be done to make people aware of the need for a class of future firemen.
The study of Princeton's fire needs soon to be carried out should go a long way shaping the future of the Princeton fire force. The commissioners should make certain they know what questions they want answered before the study starts. Should Princeton have paid firemen? Should all, one or any of the fire houses be moved out of the downtown area?
Princeton has had the luxury of a dedicated fire fighting force for most of its history, let's hope the future will maintain this tradition and nurture it.
---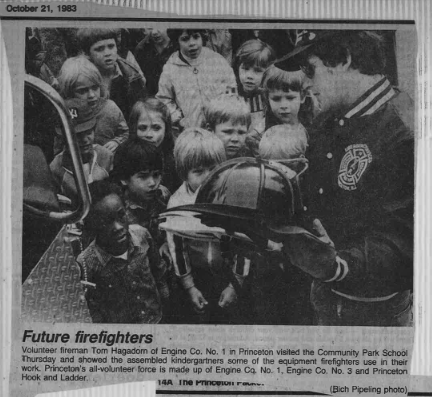 Future firefighters
Volunteer firemen Tom Hagadorn of Engine Co. No. 1 in Princeton visited the Community Park School Thursday and showed the assembled kindergarteners some of the equipment firefighters use in their work. Princeton's all-volunteer force is made up of Engine Co. No. 1, Engine Co. No. 3 and Princeton Hook and Ladder.
(Rich Pipeling photo)