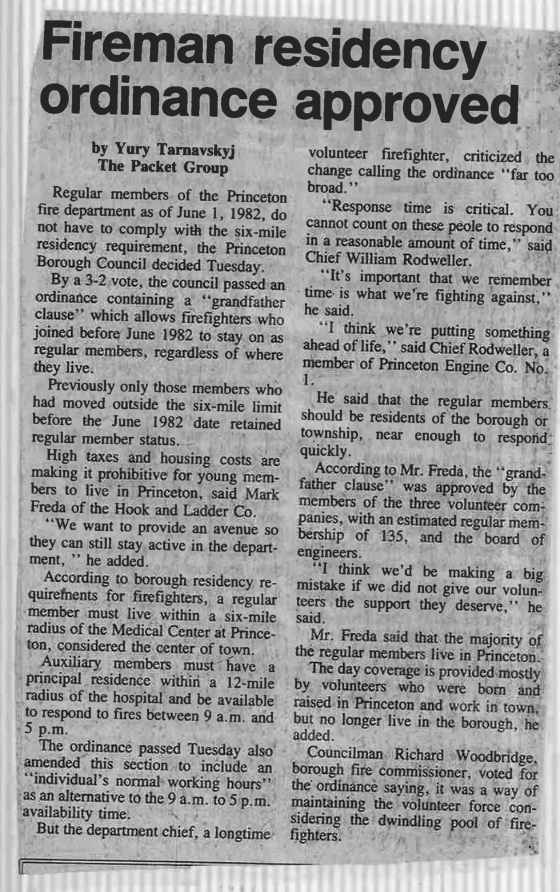 The Packet Group
Princeton Packet
21 October 1983
(date estimated)
Fireman residency ordinance approved
by Yury Tarnsvskyj
The Packet Group
Regular members of the Princeton fire department as of June 1, 1982, do not have to comply with the six-mile residency requirement, the Princeton Borough Council decided Tuesday.
By a 3-2 vote, the council passed an ordinance containing a "grandfather clause" which allows firefighters who joined before June 1982 to stay on as regular members, regardless of where they live.
Previously only those members who had moved outside the six-mile limit before the June 1982 date retained regular member status.
High taxes and housing costs are making it prohibitive for young members to live in Princeton, said Mark Freda of the Hook and Ladder Co.
"We want to provide an avenue so they can still stay active in the department, " he added.
According to borough residency requirements for firefighters, a regular member must live within a six-mile radius of the Medical Center at Princeton, considered the center of town.
Auxiliary members must Save a principal residence within a 12-mile radius of the hospital and be available to respond to fires between 9 a m. and 5 p.m.
The ordinance passed Tuesday also amended this section to include an "individual's normal working hours" as an alternative to the 9 a.m. to 5 p.m. availability time.
But the department chief, a longtime volunteer firefighter, criticized the change calling the ordinance "far too broad."
"Response time is critical. You cannot count on these people to respond in a reasonable amount of time," said Chief William Rodweller.
"It's important that we remember time is what we're fighting against," he said.
"I think we're putting something ahead of life," said Chief Rodweller, a member of Princeton Engine Co. No. 1.
He said that the regular members should be residents of the borough or township, near enough to respond, quickly.
According to Mr. Freda, the "grandfather clause" was approved by the members of the three volunteer companies, with an estimated regular membership of 135, and the board of engineers.
"I think we'd be making a big mistake if we did not give our volunteers the support they deserve," he said.
Mr. Freda said that the majority of the regular members live in Princeton.
The day coverage is provided mostly by volunteers who were born and raised in Princeton and work in town, but no longer live in the borough, he added.
Councilman Richard Woodbridge. borough fire commissioner, voted for the ordinance saying, it was a way of maintaining the volunteer force considering the dwindling pool of firefighters.