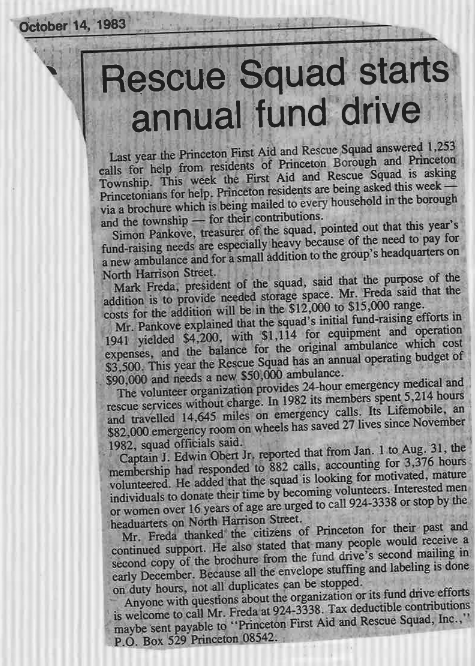 14 October 1983
Rescue Squad starts annual fund drive
Last year the Princeton First Aid and Rescue Squad answered 1.253 calls for help from residents of Princeton Borough and Princeton Township. This week the First Aid and Rescue Squad is asking Princetonians for help. Princeton residents are being asked this week — via a brochure which is being mailed to every household in the borough and the township — for their contributions.
Simon Pankove, treasurer of the squad, pointed out that this year's fund-raising needs are especially heavy because of the need to pay for a new ambulance and for a small addition to the group's headquarters on North Harrison Street
Mark Freda, president of the squad, said that the purpose of the addition is to provide needed storage space. Mr. Freda said that the costs for the addition will be in the $12,000 to $15,000 range.
Mr. Pankove explained that the squad's initial fund-raising efforts in 1941 yielded $4,200. with $1,114 for equipment and operation expenses, and the balance for the original ambulance which cost $3,500. This year the Rescue Squad has an annual operating budget of $90,000 and needs a new $50,000 ambulance.
The volunteer organization provides 24-hour emergency medical and rescue services without charge. In 1982 its members spent 5,214 hours and traveled 14,645 miles on emergency calls. Its Lifemobile, an $82,000 emergency room on wheels has saved 27 lives since November 1982, squad officials said.
Captain J. Edwin Obert Jr. reported that from Jan. 1 to Aug. 31, the membership had responded to 882 calls, accounting for 3,376 hours volunteered. He added that the squad is looking for motivated, mature individuals to donate their time by becoming volunteers. Interested men or women over 16 years of age are urged to call 924-3338 or stop by the headquarters on North Harrison Street.
Mr. Freda thanked the citizens of Princeton for their past and continued support. He also stated that many people would receive a second copy of the brochure from the fund drive's second mailing in early December. Because all the envelope stuffing and labeling is done on duty hours, not all duplicates can be stopped.
Anyone with questions about the organization or its fund drive efforts is welcome to call Mr. Freda at 924-3338. Tax deductible contributions maybe sent payable to "Princeton First Aid and Rescue Squad. Inc.," P.O. Box 529 Princeton 08542.