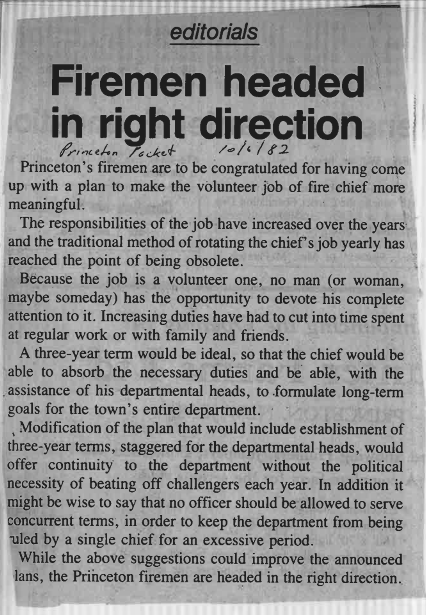 Princeton Packet
6 October 1982
editorials:
Firemen headed in right direction
Princeton's firemen are to be congratulated for having come up with a plan to make the volunteer job of fire chief more meaningful.
The responsibilities of the job have increased over the years and the traditional method of rotating the chief s job yearly has reached the point of being obsolete.
Because the job is a volunteer one, no man (or woman, maybe someday) has the opportunity to devote his complete attention to it. Increasing duties have had to cut into time spent at regular work or with family and friends.
A three-year term would be ideal, so that the chief would be able to absorb the necessary duties and be able, with the assistance of his departmental heads, to formulate long-term goals for the town's entire department.
Modification of the plan that would include establishment of three-year terms, staggered for the departmental heads, would offer continuity to the department without the political necessity of beating off challengers each year. In addition it might be wise to say that no officer should be allowed to serve concurrent terms, in order to keep the department from being ruled by a single chief for an excessive period.
While the above suggestions could improve the announced plans, the Princeton firemen are headed in the right direction.