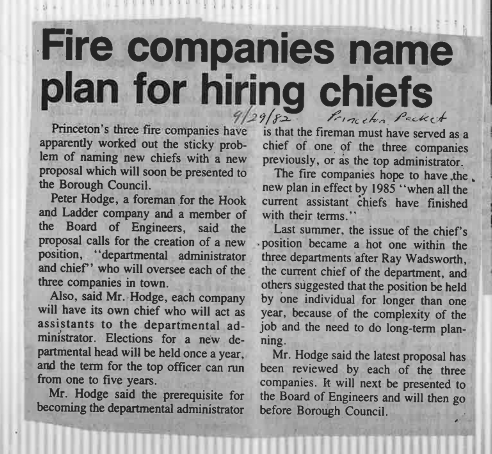 Princeton Packet
29 September 1982
Fire companies name plan for hiring chiefs
Princeton's three fire companies have apparently worked out the sticky problem of naming new chiefs with a new proposal which will soon be presented to the Borough Council.
Peter Hodge, a foreman for the Hook and Ladder company and a member of the Board of Engineers, said the proposal calls for the creation of a new position, "departmental administrator and chief' who will oversee each of the three companies in town.
Also, said Mr. Hodge, each company will have its own chief who will act as assistants to the departmental administrator. Elections for a new departmental head will be held once a year, and the term for the top officer can run from one to five years.
Mr. Hodge said the prerequisite for becoming the departmental administrator
is that the fireman must have served as a chief of one of the three companies previously, or as the top administrator.
The fire companies hope to have the new plan in effect by 1985 "when all the current assistant chiefs have finished with their terms."
Last summer, the issue of the chief's position became a hot one within the three departments after Ray Wadsworth, the current chief of the department, and others suggested that the position be held by one individual for longer than one year, because of the complexity of the job and the need to do long-term planning.
Mr. Hodge said the latest proposal has been reviewed by each of the three companies, ft will next be presented to the Board of Engineers and will then go before Borough Council.