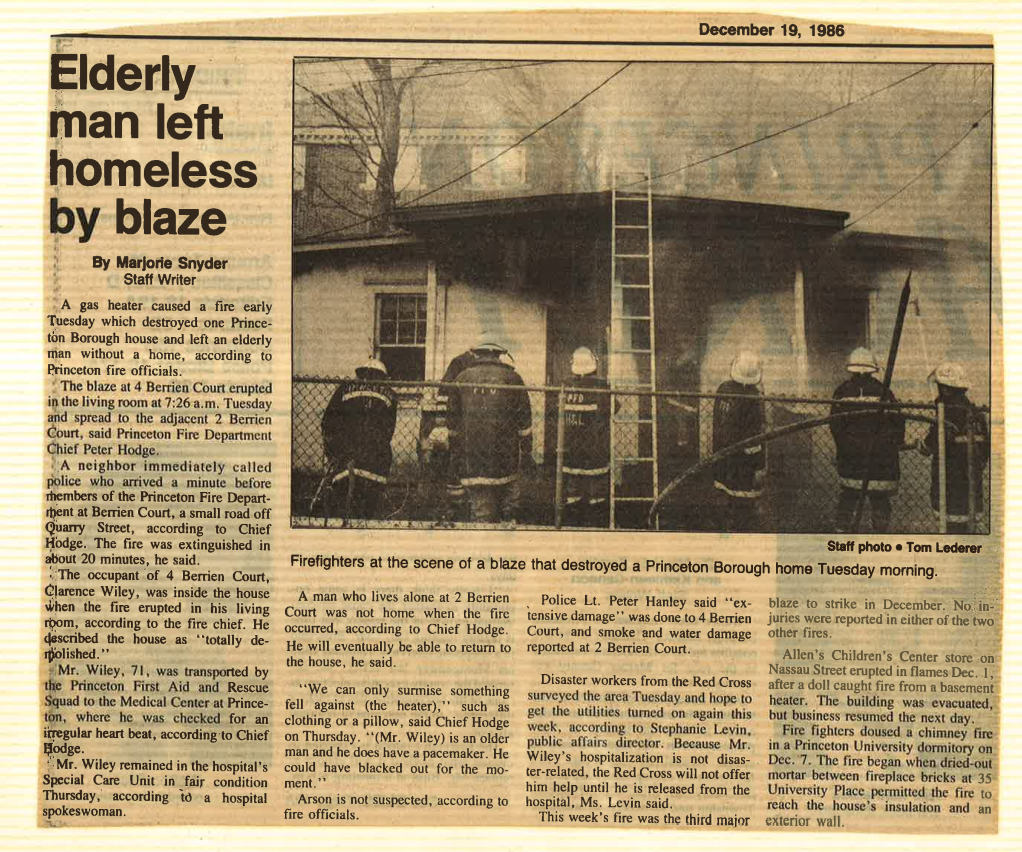 Firefighters at the scene of a blaze that destroyed a Princeton Borough home Tuesday morning.
Staff photo • Tom Lederer
December 19, 1986
Elderly man left homeless by blaze
By Marjorie Snyder
Staff Writer
A gas heater caused a fire early Tuesday which destroyed one Princeton Borough house and left an elderly man without a home, according to Princeton fire officials.
The blaze at 4 Berrien Court erupted in the living room at 7:26 a.m. Tuesday and spread to the adjacent 2 Berrien Court, said Princeton Fire Department Chief Peter Hodge.
A neighbor immediately called police who arrived a minute before members of the Princeton Fire Department at Berrien Court, a small road off Quarry Street, according to Chief Hodge. The fire was extinguished in about 20 minutes, he said.
The occupant of 4 Berrien Court, Clarence Wiley, was inside the house when the fire erupted in his living room, according to the fire chief. He inside the house as "totally demolished"
Mr. Wiley, 71, was transported by the Princeton First Aid and Rescue Squad to the Medical Center at Princeton, where he was checked for an irregular heart beat, according to Chief Bodge.
Mr. Wiley remained in the hospital's Special Care Unit in fair condition Thursday, according to a hospital spokeswoman.
A man who lives alone at 2 Berrien Court was not home when the fire occurred, according to Chief Hodge. He will eventually be able to return to the house, he said.
"We can only surmise something fell against (the heater)," such as clothing or a pillow, said Chief Hodge on Thursday. "(Mr. Wiley) is an older man and he does have a pacemaker. He could have blacked out for the moment."
Arson is not suspected, according to fire officials.
Police Lt. Peter Hanley said "extensive damage" was done to 4 Berrien Court, and smoke and water damage reported at 2 Berrien Court.
Disaster workers from the Red Cross surveyed the area Tuesday and hope to get the utilities turned on again this week, according to Stephanie Levin, public affairs director. Because Mr. Wiley's hospitalization is not disaster-related, the Red Cross will not offer him help until he is released from the hospital, Ms. Levin said.
This week's fire was the third major blaze to strike in December. No injuries were reported in either of the two other fires.
Allen's Children's Center store on Nassau Street erupted in flames Dec. I, after a doll caught fire from a basement heater. The building was evacuated, but business resumed the next day.
Fire fighters doused a chimney fire in a Princeton University dormitory on Dec. 7. The fire began when dried-out mortar between fireplace bricks at 35 University Place permitted the fire to reach the house's insulation and an exterior wall.