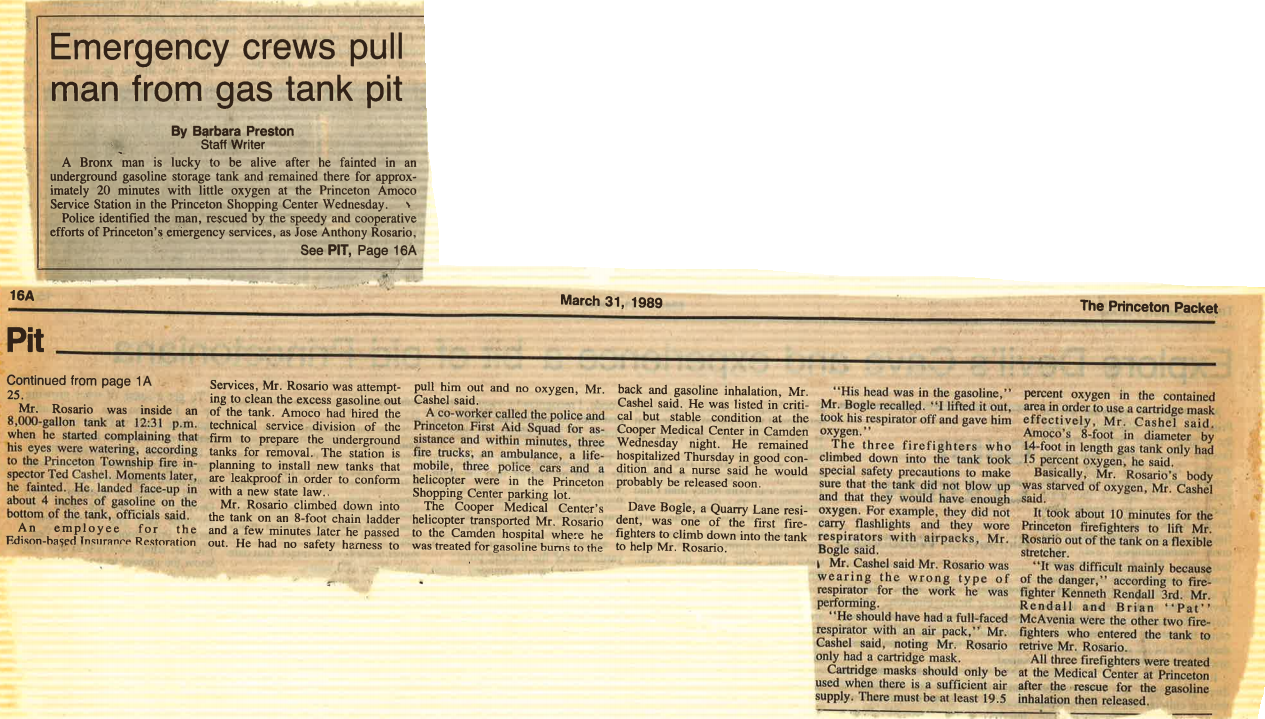 Princeton Packet
31 March, 1989
Emergency crews pull man from gas tank pit
By Barbara Preston
Staff Writer
A Bronx man is lucky to be alive after he fainted in an underground gasoline storage tank and remained there for approximately 20 minutes with little oxygen at the Princeton Amoco Service Station in the Princeton Shopping Center Wednesday.
Police identified the man, rescued by the speedy and cooperative efforts of Princeton's emergency services, as Jose Anthony Rosario, Mr. Rosario was inside an 8,000-gallon tank at 12:31 p.m. when he started complaining that his eyes were watering, according to the Princeton Township fire inspector Ted Cashel. Moments later, he fainted. He landed face-up in about 4 inches of gasoline on the bottom of the tank, officials said.
An employee for the Edison-based Insurance Restoration Services, Mr. Rosario was attempting to clean the excess gasoline out of the tank. Amoco had hired the technical service division of the firm to prepare the underground tanks for removal. The station is planning to install new tanks that are leak proof in order to conform with a new state law.
Mr. Rosario climbed down into the tank on an 8-foot chain ladder and a few minutes later he passed out. He had no safety harness to pull him out and no oxygen, Mr. Cashel said.
A co-worker called the police and Princeton First Aid Squad for assistance and within minutes, three F trucks, an ambulance, a life-mobile, three police cars and a helicopter were in the Princeton Shopping Center parking lot.
The Cooper Medical Center's helicopter transported Mr. Rosario to the Camden hospital whew he was treated for gasoline bums to the back and gasoline inhalation, Mr. Cashel said. He was fisted in critical but stable condition at the Cooper Medical Center in Camden Wednesday night. He remained hospitalized Thursday in good condition and a nurse said he would probably be released soon.
Dave Bogle, a Quarry Lane resident, was one of the first firefighters to climb down into the tank to help Mr. Rosario.
"His head was in the gasoline," Mr. Bogle recalled. "I lifted it out, took his respirator off and gave him oxygen."
The three firefighters who climbed down into the tank took special safety precautions to make sure that the tank did not blow up and that they would have enough oxygen. For example, they did not carry flashlights and they wore respirators with airpacks, Mr. Bogle said.
Mr. Cashel said Mr. Rosario was wearing the wrong type of respirator for the work he was performing.
"He should have had a full-faced respirator with an air pack," Mr. Cashel said, noting Mr. Rosario only had a cartridge mask.
Cartridge masks should only be used when there is a sufficient air supply. Them must be at least 19.5 percent oxygen in the contained area in order to use a cartridge mask effectively, Mr. Cashel said. Amoco's 8-foot in diameter by 14-foot in length gas tank only had 15 percent oxygen, he said.
Basically, Mr. Rosado's body was starved of oxygen, Mr. Cashel.
It took about 10 minutes for the Princeton firefighters to lift Mr. Rosario out of the tank on a flexible stretcher.
"It was difficult mainly because of the danger," according to fire-fighter Kenneth Randall 3rd. Mr. Kendall and Brian "Pat" McAvenia were the other two firefighters who entered the tank to retrieve Mr. Rosario.
All three firefighters were treated at the Medical Center at Princeton after the rescue for the gasoline inhalation then released.