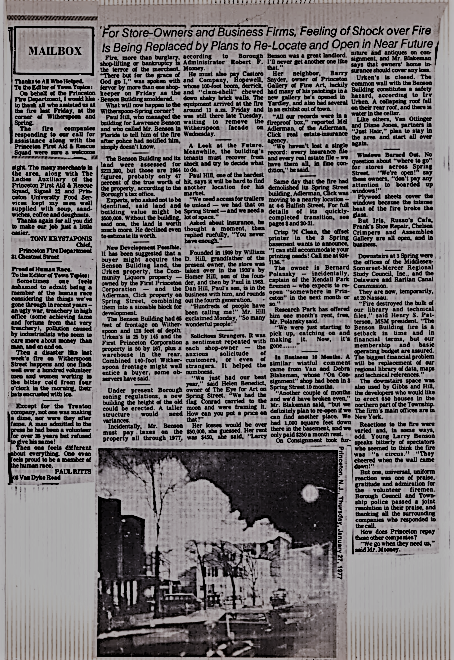 Town Topics
27 January 1977
For Store-Owners and Business Firms, Feeling of Shock over Fire is Being Replaced by Plans to Re-Locate and Open in Near Future
Fire, more than burglary, shop-lifting or bankruptcy is the terror of the merchant. "There but for the grace of God go I," was spoken with fervor by more than one shopkeeper on Friday as the Benson Building smoldered.
What will now happen to the Witherspoon-Spring corner?
Paul Hill, who managed the building for Lawrence Benson and who called Mr. Benson in Florida to tell him of the fire after police had notified him, simply doesn't know.
The Benson Building and its land were assessed for $223,200, but those are 1964 figures, probably only 47 percent of the true worth of the property, according to the Borough;s tax office.
Experts, who asked not to be identified, said land and building value might be $500,000. Without the building, said one, the land is worth much more. He declined even to estimate its worth.
New Development Possible. It has been suggested that a buyer ight acquire the Benson Building land, and Urken property, the Community Liquors property — owned by the First Princeton Corporation — and the Alderman, Click property on Spring Street, combining them into a sizable black for development.
The Benson Building had 65 feet of frontage on Witherspoon and 128 feet of depth. Urken's is 25 by 145 and the First Princeton Corporation property is 50 by 167, plus a warehouse in the rear. Combined 140-foot Witherspoon frontage might well entice a buyer, some observers have said.
Under present Borough zoning regulations, a new building the height of the old could be erected. A taller structure would need variances.
Incidentally, Mr. Benson must pay taxes on the property all through 1977, according to Borough Administrator Robert F. Mooney.
He must also pay Castoro and Company, Hopewell, whose 100-foot boom, derrick, and "clam-shell" chewed down the shaky brick walls. The equipment arrived at the fire around 11 a.m. Friday and was still there late Tuesday, waiting to remove the Witherspoon facade on Wednesday.
A Look at the Future. Meanwhile, the building's tenants must recover from the shock and try to decide what to do. Paul Hill, one of the hardest hit, says it will be hard to find another location for his market.
"We need access for trailers to unload — we had that on Spring Street — and we need a lot of space."
Asked about insurance, he though a moment, then replied ruefully, "You never have enough."
Founded in 1909 by William D. Hill, grandfather of the present owner, the store was taken over in the 1920's by Homer Hill, son of the founder, and then by Paul in 1963. Dan Hill, Paul's son, is in the business with him, and rounds out the fourth generation.
"Hundreds of people have been calling me!" Mr. Hill exclaimed Monday, "So many wonderful people!"
Solicitous Strangers. It was a sentiment repeated with each shop-owner — the anxious solicitude of customers, or even strangers. It helped the numbness.
"We just had our best year," said Helen Benedict, owner of The Eye for Art on Spring Street. "We had the flag Conrad carried to the moon and were framing it. How can you put a price on that?"
Her losses would be over $50,000, she guessed. Her rent was $450, she said, "Larry Benson was a great landlord. I'll never get another one like that."
Her neighbor, Barry Snyder, owner of Princeton Gallery of Fine Art, luckily had many of his paintings in a new gallery he's opened in Yardley, and also had several in an exhibit out of town.
"All our records were in a fireproof box," reported Mel Alderman, of Alderman, Click real estate-insurance agency.
"We haven't lost a single record: ever insurance file and every real estate file — we have them all, in fine condition," he said.
Same day that the fire had demolished its Spring Street building, Alderman, Click was moving to a nearby location — at 4-6 Hulfish Street. For full details of its quickly-completed transition, see pages 8 and 20-21.
Crisp 'N Clean, the offset printer in the 3 Spring basement want to announce "I can still accommodate your printing needs! Call me at 924-7136."
The owner is Bernard Polansky — incidentally, captain of te Kendall Park firemen — who expects to reopen "somewhere in Princeton" in the next month or so.
Research Park has offered him one month's rent, free, Mr. Polansky said.
"We were just starting to pick up, catching on and making it. Now, it's gone……"
In Business 10 Months. A similar wistful comment came from Van and Debra Blakeman, whose "On Consignment" shop had been in 3 Spring Street 10 months.
"Another couple of months and we'd have broken even," Mr. Blakeman said, "but we definitely plan to re-open if we can find another place. We had 1,000 square feet down there in the basement, and we only paid $250 a month rent.
ON Consignment took furnature and antiques on consignment, and Mr. Blakeman says that owners' home insurance should cover any loss.
Urken's is closed. The common wall with the Benson Building constitutes a safety hazard, according to Irv Urken. A collapsing roof fell on their rear roof, and there is water in the cellar.
Like others, Van Ottinger and Diane Jones, partners in "Just Hair," plan to stay in the area and start all over again.
Windows Burned Out. No questions about "where to go" for Stores across Spring Street. "We're open!" say these owners, "don't pay any attention to boarded up windows!"
Plywood sheets cover the windows because the intense heat of the fire broke the glass.
But Iris, Russo's Cafe, Frank's Shoe Repair, Chelsea Crimpers and Assemblee Gallery are all open, and in business.
Downstairs at 3 Spring were the offices of the Middlesex-Somerset-Mercer Regional Study Council Inc., and the Delaware and Raritan Canal Commission.
They are now, temporarily, at 20 Nassau.
"Fire destroyed the bulk of our library and technical files," said Henry S. Patterson, MSM president. "The Benson Building fire is a setback in time and in financial terms, but our membership and basic operating budget are assured. The biggest financial problem will be replacement of our regional library of data, maps and technical references."
The downstairs space was also used by Gibbs and Hill, the developers who would like to erect 650 houses in the northern part of the Township. The firm's main offices are in New York.
Reactions to the fire were varied and, in some ways, odd. Young Larry Benson speaks bitterly of the spectators who seemed to think the fire was "a circus." "They cheered when the wall came down!"
But one, universal, uniform reaction was one of praise, gratitude and admiration for the volunteer firemen. Borough Council and Township police passed a joint resolution in their praise, and thanking all the surrounding companies who responded to the call.
How does Princeton repay these other companies?
"We go when they need us," said Mr. Mooney.
Princeton, N.J., Thursday, January 27, 1977
Jim Agins photo
---
Mailbox
Thanks to All Who Helped.
To the Editor of Town Topics:
On behalf of the Princeton Fire Department, I would like to thank all who assisted us at the fire last Friday, at the corner of Witherspoon and Spring.
The fire companies responding to our call for assistance along with the Princeton First Aid & Rescue Squad were sure a welcome sight. The many merchants in the area, along with The Ladies Auxiliary of the Princeton First Aid & Rescue Squad, Signal 22 and Princeton University Food Services kept my men well supplied with soup, sandwiches, coffee and doughnuts.
Thanks again for all you did to make our job just a little easier.
TONY KRYSTAPONIS
Chief,
Princeton Fire Department
31 Chestnut Street
Proud of the Human Race. 
To the Editor of Town Topics:
Sometimes one feels ashamed to admit being a member of the human race considering the things we've gone through in recent years — an ugly war, treachery in high office (some achieving fame and fortune from that very treachery), pollution caused by industrialists who seem to care more about money than man, and on and on.
Than a disaster like last week's fire on Witherspoon Street happens and one finds well over a hundred volunteer men and women working in the bitter cold from four o'clock in the morning, their hats encrusted with ice.
Except for the Trenton company, not one was making a dime, nor were they after fame. A man admitted to the press he had been a volunteer for over 35 years but refused to give his name!
The one feels different about everything. One even feels proud to be a member of the human race.
PAUL RITTS
508 Van Dyke Road