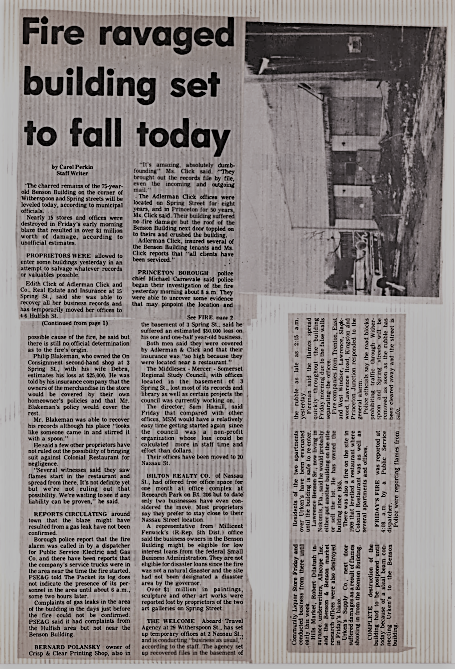 Fire ravaged building set to fall today

by Carol Perkins
Staff Writer
The charred remains of the 75-year-old Benson Building on the corner of Witherspoon and Spring streets will be leveled today, according to municipal officials.
Nearly 15 stores and offices were destroyed in Friday's early morning blaze that resulted in over $1 million worth of damage, according to unofficial estimates.
PROPRIETORS WERE allowed to enter some of the buildings yesterday in an attempt to salvage whatever records or valuables possible.
Edith Click of Alderman Click and Co., Real Estate and Insurance at 15 Spring St., said she was able to recover all her business records and has temporarily moved her offices to 4-6 Hulfish St.
"It's amazing, absolutely dumbfounding" Ms. Click said. "They brought out the records file by file, even the incoming and outgoing mail."
The Alderman Click offices were located on Spring Street for eight years, and in Princeton for 50 years, Ms. Click said. Their building suffered no fire damage but the roof of the Benson Building next door toppled on to theirs and crushed the building.
Alderman Click, insured several of the Benson Building tenants and Ms. Click reports that "all clients have been serviced."
PRINCETON BOROUGH police chief Michael Carnevale said police began their investigation of the fire yesterday morning about 8 a.m. They were able to uncover some evidence that may pinpoint the location and
See FIRE page 2
(Continued from page 1)
possible cause of the fire, he said but there is still no official determination as to the fire's origin.
Phillip Blakeman, who owned the On Consignment second-hand shop at 3 Spring St., with his wife Debra, estimates his loss at $25,000. He was told by his insurance company that the owners of the merchandise in the store would be covered by their own homeowner's policies and that Mr. Blakeman;s policy would cover the rest.
Mr. Blakeman was able to recover his records although his place "looks like someone came in and stirred it with a spoon."
He said a few other proprietors have not ruled out the possibility of bringing a suit against Colonial Restaurant for negligence.
"Several witnesses said they saw flames start in the restaurant and spread from there. It's not definite yet but we're not ruling out that possibility. We're waiting to see if any liability can be proven," he said.
REPORTS CIRCULATING around town that the blaze might have resulted from a gas leak have not been confirmed.
Borough police report that the fire alarm was called in by a dispatcher for Public Service Electric and Gas Co. and there have been reports that the company's service trucks were in the area near the time the fire started. PSE&G told The Packet its log does not indicate the presence of its personnel in the area until about 6 a.m., some two hours later.
Complaints of gas leaks in the area of the building in the days just before the fire could not be confirmed. PSE&G said it had complaints from the Hulfish area but not near the Benson Building.
BERNARD POLANSKY owner of Crisp & Clear Printing Shop, also in the basement of 3 Spring st., said he suffered an estimated $50,000 loss on his one and one-half year-old business.
Both men said they were covered by Alderman & Click and that their insurance was "so high because they were located near a restaurant."
The Middlesex – Mercer – Somerset Regional Study Council, with offices located in the basement of 3 Spring St., lost most of its records and library as well as certain projects the council was currently working on.
The director, Sam Hamill, said Friday that compared with other offices, MSM would have a relatively easy time getting started again since the council was a non-profit organization whose loss could be calculated more in staff time and effort than dollars.
Their offices have been moved to 20 Nassau St.
HILTON REALITY CO. of Nassau St., had offered free office space for one month at office complex at Research Park on Rt. 206 but to date only two businesses have even considered the move. Most proprietors say they prefer to stay close to their Nassau Street location.
A representative from Milicent Fenwick's (R-Rep. 5th dist.) office said the business owners in the Benson Building might be eligible for low interest loans from the federal Small Business Administration. They are not eligible for disaster loans since the fire was not a natural disaster and the site has not been designated a disaster area by the governor.
Over $1 million in paintings, sculpture and other art works were reported lost by proprietors of the two art galleries on Spring Street.
THE WELCOME Aboard Travel Agency at 29 Witherspoon St., has set up temporary offices at 2 Nassau St., and is conducting "business as usual," according to the staff. The agency set up recovered filed in the basement of Community Liquor Store Friday and conducted business from there until early this week.
Hills Market, Robert Dilatush insurance underwriters, Allscope Inc., and the Benson & Benson market research offices were also destroyed in Friday's blaze.
Urken Supply Co., next door suffered damages as a result of flames shooting in from the Benson Building.
COMPLETE destruction of the building had to be postponed until today because of a steel beam connecting Urken's to the Benson building.
Residents of the two apartments over Urken's have been evacuated until the building is safe to re-enter.
Lawrence Benson Sr., now living in Nokomis, Fla., said he would probably either put another building on the site or sell the lot. He has owned the building since 1955.
There was also a fire on the site in 1909 that leveled a restaurant where the Colonial Restaurant was as well as several apartments and offices.
FRIDAY'S FIRE was reported at 4:08 a.m. by a Public Service dispatcher.
Police were reporting flames from the rubble as late as 2:15 a.m. yesterday.
Firemen said the flames spread quickly throughout the building Friday morning due to false walls separating the offices.
Fire companies from Trenton, East and West Windsor, Lawrence, Slackwood, Lawrence Road, Kingston and Princeton Junction responded to the general alarm.
Police officials say the road blocks prohibiting traffic though Witherspoon and Spring streets will be removed as soon as the rubble has been cleared away and the street is safe.