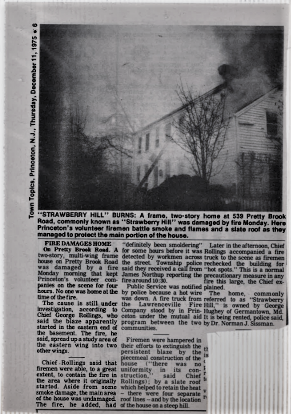 11 December 1975
FIRE DAMAGES HOME
On Pretty Brook Road. A two-story, multi-wing frame house on Pretty Brook Road was damaged by a fire Monday morning that kept Princeton's volunteer companies on the scene for four hours. No one was home at the time of the fire.
The cause is still under investigation, according to Chief George Rollings, who said the blaze apparently started in the eastern end of the basement. The fire, he said, spread up a study area of the eastern wing into two other wings.
Chief Rollings said that firemen were able, to a great extent, to contain the fire in the area where it originally started. Aside from some smoke damage, the main area of the house was undamaged. The fire, he added, had "definitely been smoldering" for some hours before it was detected by workmen across the street. Township police said they received a call from James Northup, reporting the fire around 10:30.
Public Service was notified by police because a hot wire was down. A fire truck from the Lawrenceville Fire Company stood by in Princeton under the mutual aid program between the two communities.
Firemen were hampered in their efforts to extinguish the persistent blaze by the piecemeal construction of the house ("there was no uniformity in its construction," said Chief Rollings); by a slate roof which helped to retain the heat – there were four separate roof lines – and by the location of the house on a steep hill.
Later in the afternoon, Chief Rollings accompanied a fire truck to the scene as firemen rechecked the building for "hot spots." This is a normal precautionary measure in any fire this large, the Chief explained.
The home, commonly referred to as "Strawberry Hill," is owned by George Hughey of Germantown, Md. It is being rented, police said, by Dr. Norman J. Sissman.
---
Photo Caption: "Strawberry Hill" Burns: A frame, two-story home at 539 Pretty Brook Road, commonly known as "Strawberry Hill" was damaged by fire Monday. Here Princeton's volunteer firemen battle smoke and flames and a slate rood as they managed to protect the main portion of the house.