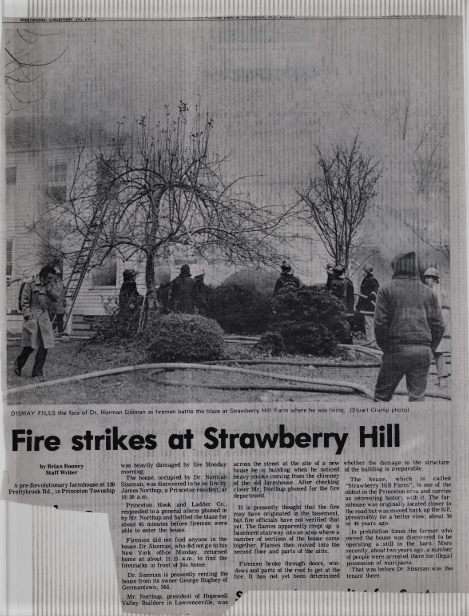 10 December 1975
Fire strikes at Strawberry Hill
A pre-revolutionary farmhouse at 539 Prettybrook Rd., in Princeton Township was heavily damaged by fire Monday morning.
The house, occupied by Dr. Norman Sissman, was discovered to be on fire by James Northup, a Princeton resident, at 10:30 am.
Princeton Hook and Ladder Co., responded to a general alarm phones in by Mr. Northup and battledd the blaze for about 45 minutes before firemen were able to enter the house.
Firemen did not find anyone in the house, Dr. Sissman, who did not go to his New York office Monday, returned home at about 11:15 a.m. to find the firetrucks in front of his home.
Dr. Sissman is presently renting the house from its owner George Hughey of Germantown, Md.
Mr. Northup, president of Hopewell Valley Builders in Lawrenceville, was across the street at the site of the new house he is building when he noticed heavy smoke coming from the chimney of the old farmhouse. After checking closer, Mr. Northup phoned for the fire department.
It is presently thought that the fire may have originated in the basement, but fire officials have not verified that yet. The flames apparently crept up a basement stairway into an area where a number of sections of the house come together. Flames then moved into the second floor and parts of the attic.
Firemen broke through doors, windows and parts of the roof to get at the fire. It has not yet been determined whether the damage to the structure of the building is irreparable.
The house, which is called "Strawberry Hill Farm", is one of the oldest in the Princeton area and carries an interesting history with it. The farmhouse was originally located closer to the road but was moved back up the hill, presumably for a better views, about 30 or 40 years ago.
In prohibition times the farmer who owned the house was discovered to be operating a still in the barn. More recently, about two years ago, a number of people were arrested there for illegal possession of marijuana. That was before Dr. Sissman was the tenant there.