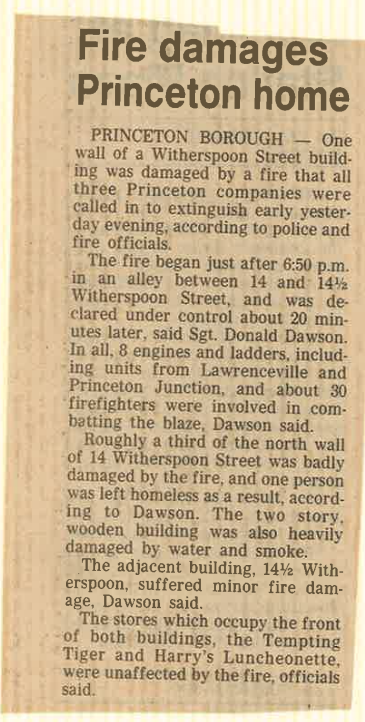 5 May, 1987 (~estimated)
Fire damages Princeton home
PRINCETON BOROUGH — One wall of a Witherspoon Street build. log was damaged by a fire that all three Princeton companies were called in to extinguish early yester. day evening, according to police and fire officials.
The fire began just after 6:50 p.m. in an alley between 14 and 141i Witherspoon Street. and was declared under control about 20 min. uses later. said Sgt. Donald Dawson. In all, 8 engines and ladders, including units from Lawrenceville and Princeton Junction. and about 30 firefighters were involved in combating the blaze, Dawson said.
Roughly a third of the north wall of 14 Witherspoon Street was badly damaged by the fire, and one person was left homeless as a result, according to Dawson. The two story, wooden building was also heavily damaged by water and smoke.
The adjacent building, 14 1⁄2 Witherspoon, suffered minor fire damage, Dawson said.
The stores which occupy the front of both buildings, the Tempting Tiger and Harry's Luncheonette. were unaffected by the fire, officials said.