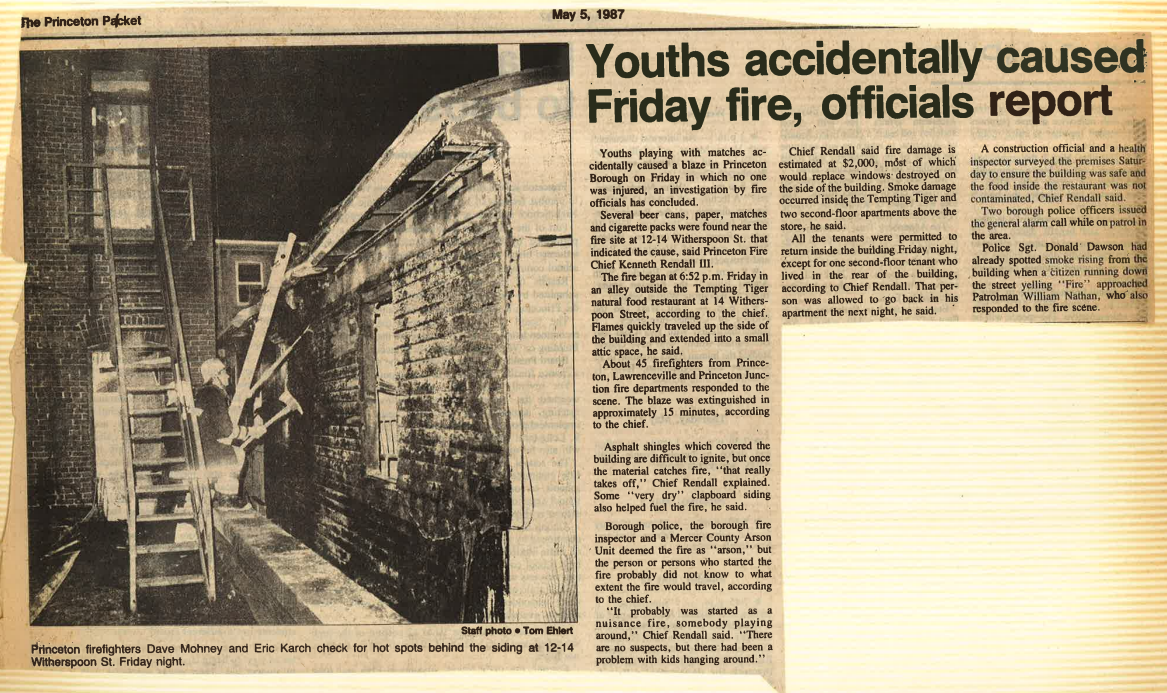 Staff photo • Tom Ehlert
Princeton firefighters Dave Mohney and Eric Karch check for hot spots behind the siding at 12-14 Witherspoon St.Friday night.
Princeton Packet
5 May, 1987
Youths accidentally caused Friday fire, officials report
Youths playing with matches accidentally caused a blaze in Princeton Borough on Friday in which no one was injured, an investigation by fire officials has concluded.
Several beer cans, paper, matches and cigarette packs were found near the fire site at 12-14 Witherspoon St. that indicated the cause, said Princeton Fire Chief Kenneth Kendall III.
The fire began at 6:52 p.m. Friday in an alley outside the Tempting Tiger natural food restaurant at 14 Witherspoon Street, according to the chief. Flames quickly traveled up the side of the building and extended into a small attic space, he said.
About 45 firefighters from Princeton, Lawrenceville and Princeton Junction fire departments responded to the scene. The blaze was extinguished in approximately 15 minutes, according to the chief.
Asphalt shingles which covered the building are difficult to ignite, but once the material catches fire, that really takes off," Chief Rendall explained. Some "very dry" clapboard siding also helped fuel the fire, he said.
Borough police, the borough fire inspector and a Mercer County Arson  Unit deemed the fire as "arson," but the person or persons who started the fire probably did not know to what extent the fire would travel, according to the chief.
"It probably was started as a nuisance fire, somebody playing around," Chief Rendall said. "There are no suspects, but there had been a problem with kids hanging around."
Chief Rendall said fire damage is estimated at $2,000, most of which would replace windows, destroyed on the side of the building. Smoke damage occurred inside the Tempting Tiger and two second-floor apartments above the store, he said.
All the tenants were permitted to return inside the building Friday night, except for one second-floor tenant who lived in the rear of the building, according to Chief Rendall. That person was allowed to go back in his apartment the next night, he said.
A construction official and a health inspector surveyed the premises Saturday to ensure the building was safe and the food inside the restaurant was not contaminated, Chief Rendall said.
Two borough police officers issued the general alarm call while on patrol in the area.
Police Sgt. Donald Dawson had already spotted smoke rising from the building when a Citizen running clown the street yelling "Fire" approached Patrolman William Nathan, who' also responded to the fire scene.