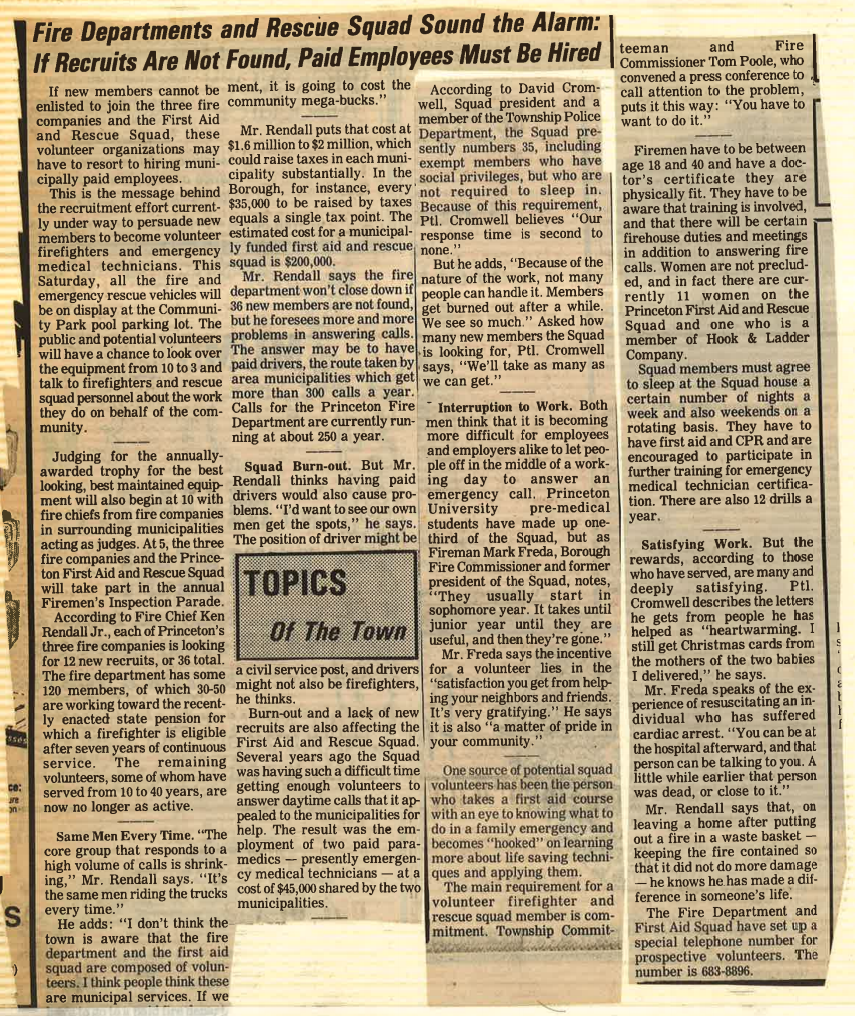 Topics of the Town
25 September, 1987 (~estimated)
Fire Departments and Rescue Squad Sound the Alarm: If Recruits Are Not Found, Paid Employees Must Be Hired
If new members cannot be enlisted to join the three fire companies and the First Aid and Rescue Squad, these volunteer organizations may have to resort to hiring municipally paid employees.
This is the message behind the recruitment effort currently under way to persuade new members to become volunteer firefighters and emergency medical technicians. This Saturday, all the fire and emergency rescue vehicles will be on display at the Community Park pool parking lot. The public and potential volunteers will have a chance to look over the equipment from 10 to 3 and talk to firefighters and rescue squad personnel about the work they do on behalf of the community.
Judging for the annually-awarded trophy for the best looking, best maintained equipment will also begin at 10 with fire chiefs from fire companies in surrounding municipalities acting as judges. At 5, the three fire companies and the Princeton First Aid and Rescue Squad will take part in the annual Firemen's Inspection Parade.
According to Fire Chief Ken Kendall Jr., each of Princeton's three fire companies is looking for 12 new recruits, or 36 total. The fire department has some 120 members, of which 30-50 are working toward the recently enacted state pension for which a firefighter is eligible after seven years of continuous service. The remaining volunteers, some of whom have served from 10 to 90 years, are now no longer as active.
Same Men Every Time. "The core group that responds to a high volume of calls is shrinking," Mr. Rendall says. "It's the same men riding the trucks every time."
He adds: "I don't think the town is aware that the fire department and the first aid squad are composed of volunteers. I think people think these are municipal services. If we have to go to a paid fire department, it is going to cost the community mega-bucks."
Mr. Rendall puts that cost at $1.6 million to $2 million, which could raise taxes in each municipality substantially. In the Borough, for instance, every  $35,000 to be raised by taxes equals a single tax point. The estimated cost for a municipally funded first aid and rescue squad is $200,000.
Mr. Rendall says the fire department won't close down if 36 new members are not found, but he foresees more and more problems in answering calls. The answer may be to have paid drivers, the route taken by area municipalities which get more than 300 calls a year. Calls for the Princeton Fire Department are currently running at about 250 a year.
Squad Burn-out. But Mr.Rendall thinks having paid drivers would also cause problems. "I'd want to see our own men get the spots," he says. The position of driver might be a civil service post, and drivers might not also be firefighters, he thinks.
Burn-out and a lack of new recruits are also affecting the First Aid and Rescue Squad. Several years ago the Squad was having such a difficult time getting enough volunteers to answer daytime calls that it appealed to the municipalities for help. The result was the employment of two paid paramedics — presently emergency medical technicians — at a cost of $45,000 shared by the two municipalities.
According to David Cromwell, Squad president and a member of the Township Police Department, the Squad presently numbers 35, including exempt members who have social privileges, but who are not required to sleep in. Because of this requirement, Ptl. Cromwell believes "Our response time is second to none."
But he adds, "Because of the nature of the work, not many people can handle it. Members get burned out after a while. We see so much." Asked how many new members the Squad is looking for, Ptl. Cromwell says, "We'll take as many as we can get."
Interruption to Work. Both men think that it is becoming more difficult for employees and employers alike to let people off in the middle of a working day to answer an emergency call. Princeton University pre-medical students have made up one-third of the Squad, but as Fireman Mark Freda, Borough Fire Commissioner and former president of the Squad, notes, "They usually start in sophomore year. It takes until junior year until they are useful, and then they're gone." Mr. Freda says the incentive for a volunteer lies in the "satisfaction you get from helping your neighbors and friends. It's very gratifying." He says it is also "a matter of pride in your community."
One source of potential squad volunteers has been the person who takes a first aid course with an eye to knowing what to do in a family emergency and becomes "hooked" on learning more about life saving techniques and applying them. The main requirement for a volunteer firefighter and rescue squad member is commitment. Township Committeeman and Fire Commissioner Tom Poole, who convened a press conference to call attention to the problem, puts it this way: "You have to want to do it."
Firemen have to be betweenage 18 and 40 and have a doctor's certificate they are physically fit. They have to be aware that training is involved, and that there will be certain firehouse duties and meetings in addition to answering fire calls. Women are not precluded, and in fact there are currently 11 women on the Princeton First Aid & Rescue Squad and one who is a member of Hook & Ladder Company.
Squad Members must agree to sleep at the Squad house a certain number of nights a week and also weekends on a rotational basis. They have to have first aid and CPR and are encouraged to participate  in further training for emergency medical technician certification. There are also 12 drills a year.
Satisfying Work. But the rewards, according to those who have served, are many and deeply satisfying. Ptl. Cromwell describes the letters he gets from people he has helped as "heartwarming. I still get Christmas cards from the mothers of the two babies I delivered," he says.
Mr. Freda speaks of the experience of resuscitating an individual who has suffered cardiac arrest. "You can be at the hospital afterward, and that person can be talking to you. A little while earlier that person was dead, or close to it."
Mr. Rendall says that, on leaving a home after putting out a fire in a waste basket – keeping the fire contained so that it did not do more damage – he knows he has made a difference in someone's life.
The Fire department and First Aid Squad have set up a special telephone number for prospective volunteers. The number is 683-8896