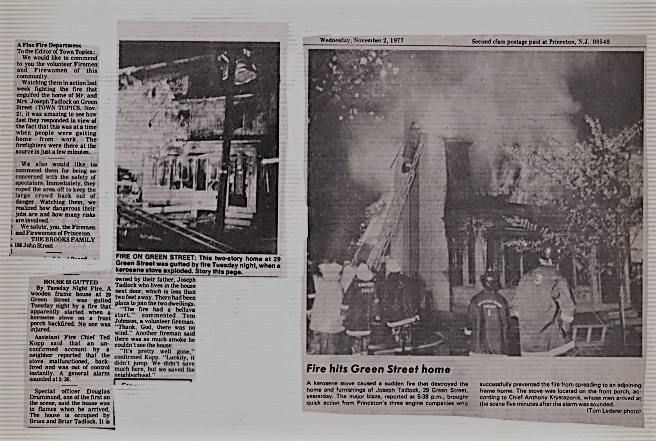 Photo Caption:
Fire hits Green Street home
A kerosene stove caused a sudden fire that destroyed the home and furnishings of Joseph Tadlock, 29 Green Street, yesterday. The major blaze, reported at 5:38 p.m., brought quick action from Princeton's three engine companies who successfully prevented the fire from spreading to an adjoining frame home. The stove was located on the front porch, according to Chief Anthony Krystaponis, whose men arrived at the scene five minutes after the alarm was sounded.
(Tom Lederer photo)
---
A Fine Fire Department
To the Editor of Town Topic:
We would like to commend to you the volunteer Firemen and Firewomen of this community.
Watching them in action last week fighting the fire that, engulfed the home of Mr. and Mrs. Joseph Tadlock on Green Street (TOWN TOPICS, Nov. 2), it was amazing to see how fast they responded in view of the fact that this was at a time when people were getting home from work. The firefighters were there at the source in just a few minutes.
We also would like to commend them for being so concerned with the safety of spectators. Immediately, they roped the area off to keep the large crowd back out of danger. Watching them, we realized how dangerous their jobs are and how many risks are involved.
We salute, you, the Firemen and Firewomen of Princeton.
THE BROOKS FAMILY
188 John Street
---
HOUSE IS GUTTED
By Tuesday Night Fire. A wooden frame house at 29 Green Street was gutted Tuesday night by a fire that apparently started when a kerosene stove on a front porch backfired. No one was injured.
Assistant Fire Chief Ted Kopp said that an unconfirmed account by a neighbor reported that the stove malfunctioned, backfired and was out of control instantly. A general alarm sounded at 5:38.
Special officer Douglas Drummond, one of the first on the scene, said the house was in flames when he arrived. The house is occupied by Brian and Briar Tadlock. It is
owned by their father, Joseph Tadlock who lives in the house next door, which is less than two feet away. There had been plans to join the two dwellings.
"The fire had a helluva start," commented Tom Johnson, a volunteer fireman. "Thank, God, there was no wind." Another fireman said there was so much smoke he couldn't see the house.
"It's pretty well gone," confirmed Kopp. "Luckily, it didn't jump. We didn't save much here, but we saved the neighborhood."
‬‭
Photo Caption:
FIRE ON GREEN STREET: This two-story home at 29 Green Street was gutted by fire Tuesday night, when a kerosene stove exploded. Story on this page.