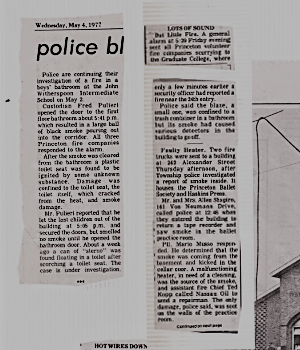 4 May 1977
Left:
Police are continuing their investigation of a fire in a boys' bathroom at the John Witherspoon Intermediate School on May 2.
Custodian Fred Pulieri opened the door to the first floor bathroom about 5:41 p.m. which resulted in a large ball of black smoke pouring out into the corridor. All three Princeton fire companies responded to the alarm.
After the smoke was cleared from the bathroom a plastic toilet seat was found to be ignited by some unknown substance. Damage was confined to the toilet seat, the toilet itself, which cracked from the heat, and smoke damage.
Mr. Pulieri reported that he let the last children out of the building at 5:05 p.m. and secured the doors, but smelled no smoke until he opened the bathroom door. About a week ago a can of "sterno" was found floating in a toilet after scorching a toilet seat. The case is under investigation.
---
Right:
LOTS OF SOUND But Little Fire. A general alarm at 5:29 Friday evening sent all Princeton volunteer fire companies scurrying to the Graduate College, where only a few minutes earlier a security officer had reported a fire near the 24th entry.
Police said the blaze, a small one, was confined to a trash container in a bathroom but its smoke had caused various detectors in the building to go off.
Faulty Heater. Two fire trucks were sent to a building at 262 Alexander Street Thursday afternoon, after Township police investigated a report of smoke inside. It houses the Princeton Ballet Society and Haskins Press.
Mr. and Mrs. Allen Shapiro, 161 Von Neumann Drive, called police at 12:46 when they entered the building to return a tape recorder and saw smoke in the ballet practice room.
Ptl. Mario Musso responded. He determined that the smoke was coming from the basement and kicked in the cellar door. A malfunctioning heater, in need of a cleaning, was the source of the smoke, and assistant fire Chief Ted Kopp called Nassau Oil to send a repairman. The only damage, police said, was soot on the walls of the practice room.