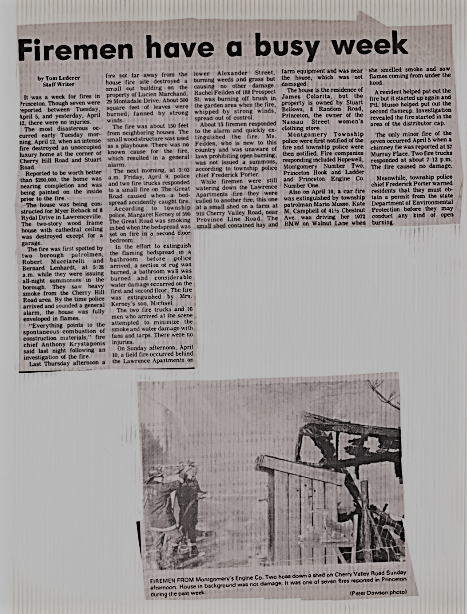 16 April 1977
Firemen have a busy week
by Tom Lederer
Staff Writer
It was a week for fires in Princeton. Though seven were reported between Tuesday April 5, and yesterday, April 12, there were no injuries.
The most disastrous occurred early Tuesday morning, April 12. When an intense fire destroyed an unoccupied luxury home at the corner of Cherry Hill Road and Stuart Road.
Reported to be worth better than $200.000, the home was nearing completion and was being painted on the inside prior to the fire.
The house was being constructed for Myer Reback of 8 Rydal Drive in Lawrenceville. The two-story wood frame house with cathedral ceiling was destroyed except for a garage.
The fire was first spotted by two borough patrolmen. Robert Mucciarelli and Bernard Lenhardt, at 5:28 a.m, while they were issuing all-night summonses in the borough. They saw heavy smoke from the Cherry Hill Road area. By the time police arrived and sounded a general alarm, the house was fully enveloped in flames.
"Everything points to the spontaneous combustion of construction materials," fire chief Anthony Krystaponis said last night following an investigation of the fire.
Last Thursday afternoon a fire not far away from the house fire site destroyed a small out building on the property of Lucien Marchand, 29 Montadale Drive. About 500 square feet of leaves were burned, fanned by strong winds.
The fire was about 150 feet from neighboring houses The small wood structure was used as a playhouse. There was no known cause for the fire, which resulted in a general alarm.
The next morning, at 3:03 a.m. Friday, April 9, police and two fire trucks responded to a small fire on The Great Road caused when a bedspread accidentally caught fire.
According to township police. Margaret Kerney of 590 The Great Road was smoking in bed when the bedspread was set on fire in a second floor bedroom.
In the effort to extinguish the flaming bedspread in a bathroom before police arrived, a section of rug was burned, a bathroom wall was burned and considerable water damage occurred on the first and second floor. The fire was extinguished by Mrs. Kerney's son, Michael.
The two fire trucks and 16 men who arrived at the scene attempted to minimize the smoke and water damage with fans and tarps. There were no injuries.
On Sunday afternoon. April 10, a field fire occurred behind the Lawrence Apartments on lower Alexander Street, burning weeds and grass but causing no other damage. Rachel Feilden of 188 Prospect St. was burning off brush in the garden area when the fire, whipped by strong winds, spread out of control.
About 15 firemen responded to the alarm and quickly extinguished the fire. Ms. Feilden, who is new to this country and was unaware of laws prohibiting open burning, was not issued a summons, according to township police chief Frederick Porter.
While firemen were still watering down the Lawrence Apartments fire they were called to another fire, this one at a small shed on a farm at 910 Cherry Valley Road, near Province Line Road. The small shed contained hay and farm equipment and was near the house, which was not damaged.
The house is the residence of James Colarita, but the property is owned by Stuart Bellows, 8 Random Road, Princeton, the owner of the Nassau Street women's clothing store.
Montgomery Township police were first notified of the fire and township police were then notified. Fire companies responding included Hopewell. Montgomery Number Two, Princeton Hook and Ladder and Princeton Engine Co. Number One.
Also on April 10, a car fire was extinguished by township patrolman Mario Musso. Kate M. Campbell of 41 1/2 Chestnut Ave. was driving her 1972 BMW on Walnut Lane when
she smelled smoke and saw flames coming from under the hood.
A resident helped put out the fire but It started up again and PU. Musso helped put out the second flameup. Investigation revealed the fire started in the area of the distributor cap.
The only minor fire of the seven occurred April 5 when a chimney fie was reported at 57 Murray Place. Two fire trucks responded at about 7:12 p.m. The fire caused no damage.
Meanwhile, township police chief Frederick Porter warned residents that they must obtain a permit from the state Department of Environmental Protection before they may conduct any kind of open burning.
Photo Caption:
FIREMEN FROM Montgomery's Engine Co. Two hose down a shed on Cherry Valley Road Sunday afternoon. House in background was not damaged. It was one of seven fires reported in Princeton during the past week.
(Peter Dawson photo)