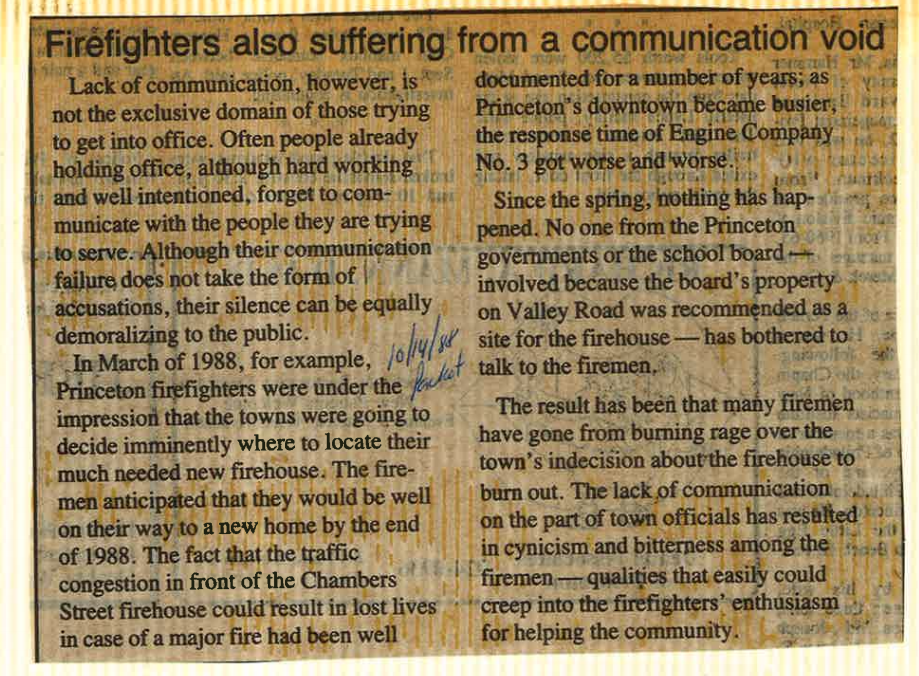 Princeton Packet
14 October, 1988
Firefighters also suffering from a communication void
Lack of communication, however, is not the exclusive domain of those trying to get into office. Often people already holding office, although hard working and well intentioned, forget to communicate with the people they are trying to serve. Although their communication failure does not take the form of accusations, their silence can be equally demoralizing to the public.
In March of 1988, for example, Princeton firefighters were under the impression that the towns were going to decide imminently where to locate their much needed new firehouse. The firemen anticipated that they would be well on their way to a new home by the end of 1988. The fact that the traffic congestion in front of the Chambers Street firehouse could result in lost lives in case of a major fire had been well documented for a number of years; as Princeton's downtown became busier, the response time of Engine Company No. 3 got worse and worse.
Since the spring, nothing has happened. No one from the Princeton governments or the school board — involved because the board's property on Valley Road was recommended as a site for the firehouse — has bothered to talk to the firemen.
The result has been that many firemen have gone from burning rage over the town's indecision about the firehouse to burn out. The lack of communication on the part of town officials has resulted in cynicism and bitterness among the firemen — qualities that easily could creep into the firefighter's enthusiasm for helping the community.