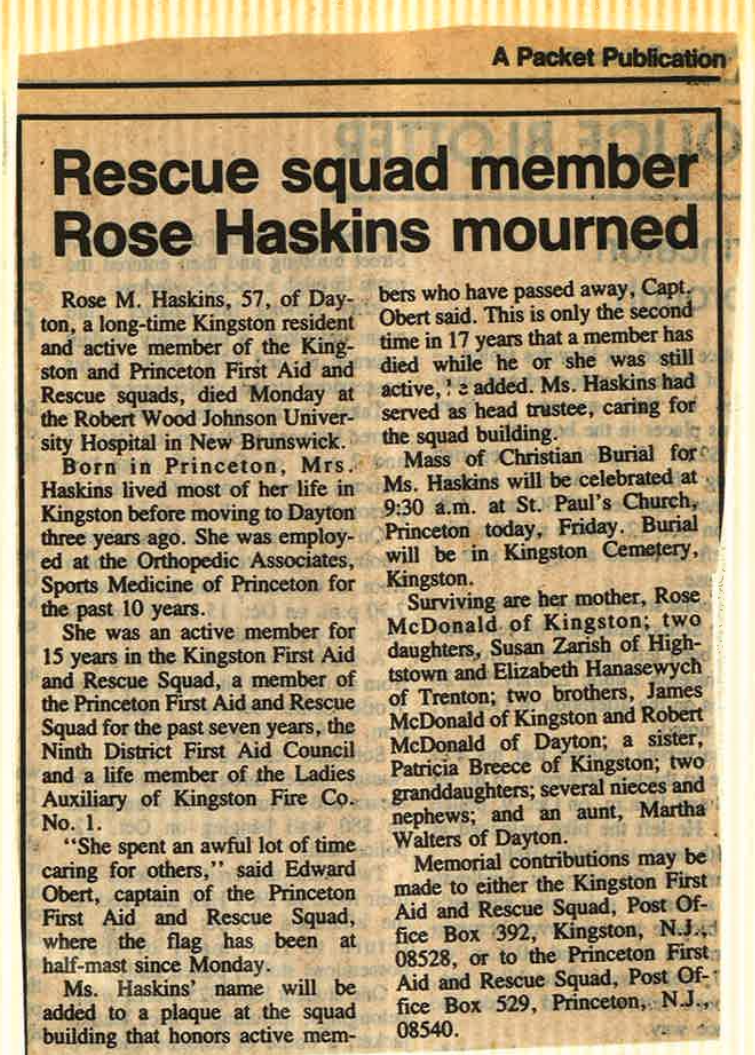 Princeton Packet
19 October, 1988 (~estimated)
Rescue squad member Rose Haskins mourned
Rose M. Haskins, 57, of Dayton, a long-time Kingston resident and active member of the Kingston and Princeton First Aid and Rescue squads, died Monday at the Robert Wood Johnson University Hospital in New Brunswick.
Born in Princeton, Mrs. Haskins lived most of her life in Kingston before moving to Dayton three years ago. She was employed at the Orthopedic Associates, Sports Medicine of Princeton for the past 10 years.
She was an active member for 15 years in the Kingston First Aid and Rescue Squad, a member of the Princeton First Aid and Rescue Squad for the past seven years, the Ninth District First Aid Council and a life member of the Ladies Auxiliary of Kingston Fire Co. No I.
"She spent an awful lot of time caring for others," said Edward Obert, captain of the Princeton Bust Aid and Rescue Squad, where the flag has been at half-mast since Monday.
Ms. Haskins name will be added to a plaque at the squad building that honors active members who have passed away, Capt. Obett said. This is only the second time in 17 years that a member has died while he or she was still active, added. Ms. Haskins had served as head trustee, caring for the squad building.
Mass of Christian Burial for Ms. Haskins will be celebrated at 9:30 am. at St. Paul's Church, Princeton today, Friday. Burial will be in Kingston Cemetery, Kingston.
Surviving are her mother, Rose McDonald of Kingston; two daughters, Susan Zarish of Hightstown and Elizabeth Hanasewych of Trenton; two brothers, James McDonald of Kingston and Robert McDonald of Dayton; a sister, Patricia Breece of Kingston; two granddaughters; several nieces and nephews; and an aunt, Martha Walters of Dayton.
Memorial contributions may be made to either the Kingston First Aid and Rescue Squad, Post Office Box 392, Kingston, N.J., 08528, or to the Princeton First Aid and Rescue Squad. Post Office Box 529. Princeton, NJ., 08540.