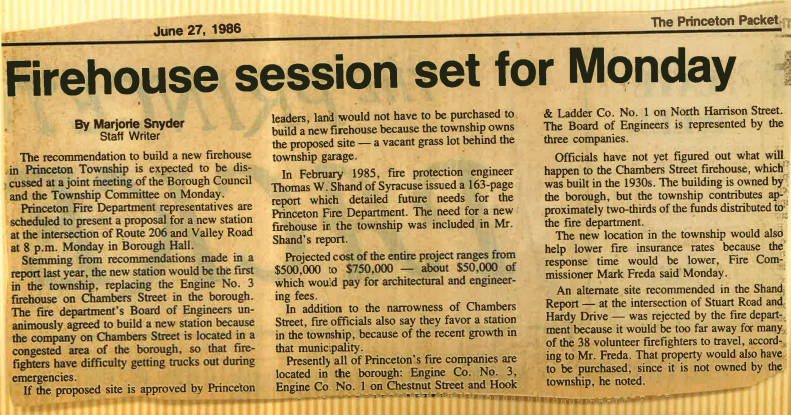 The Princeton Packet
June 27, 1986
Firehouse session set for Monday
By Marjorie Snyder
Staff Writer
The recommendation to build a new firehouse in Princeton Township is expected to be discussed at a joint Meeting of the Borough Council and the Township Committee on Monday.
Princeton Fire Department representatives are scheduled to present a proposal for a new station at the intersection of Route 206 and Valley Road at 8 p.m. Monday in Borough Hall.
Stemming from recommendations made in a report last year. the new station would be the first in the township. replacing the Engine No. 3 firehouse on Chambers Street in the borough. The fire department's Board of Engineers unanimously agreed to build a new station because the company on Chambers Street is located in a congested area of the borough. so that fire-fighters have difficulty getting trucks out during emergencies.
If the proposed site is approved by Princeton leaders, land would not have to be purchased to build a new firehouse because the township owns the proposed site — a vacant grass lot behind the township garage.
In February 1985, fire protection engineer Thomas W. Shand of Syracuse issued a 163-page report which detailed future needs for the Princeton Fire Department. The need for a new firehouse it the township was included in Mr. Shand's report.
Projected cost of the entire project ranges from $500,000 to $750,000 — about $50,000 of which would pay for architectural and engineering fees.
In addition to the narrowness of Chambers Street. fire officials also say they favor a station in the township, because of the recent growth in that municipality.
Presently all of Princeton's fire companies are located in the borough: Engine Co. No. 3, Engine Co No. 1 on Chestnut Street and Hook
& Ladder Co. No. 1 on North Harrison Street. The Board of Engineers is represented by the three companies.
Officials have not yet figured out what will happen to the Chambers Street firehouse, which was built in the 1930s. The building is owned by the borough, but the township contributes approximately two-thirds of the funds distributed to the fire department.
The new location in the township would also help lower fire insurance rates because the response time would be lower. Fire Com-missioner Mark Freda said Monday.
An alternate site recommended in the Shand Report — at the intersection of Stuart Rued and Hardy Drive — was rejected by the fire department because it would be too far away for many of the 38 volunteer firefighters to travel, according to Mr. Freda. That property would also have to be purchased, since it is not owned by the township. he noted.