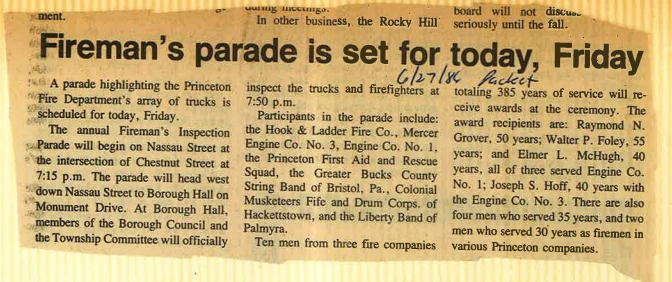 The Princeton Packet
27 June, 1986
A parade highlighting the Princeton Fire Department's array of trucks is scheduled for today, Friday.
The annual Fireman's Inspection Parade will begin on Nassau Street at the intersection of Chestnut Street at 7:15 p.m. The parade will head west down Nassau Street to Borough Hall on Monument Drive. At Borough Hall. members of the Borough Council and the Township Committee will officially inspect the trucks and firefighters at 7:50 pm.
Participants in the parade include: the Hook & Ladder Fire Co., Mercer Engine Co. No. 3, Engine Co. No. 1. the Princeton First Aid and Rescue Squad, the Greater Bucks County String Band of Bristol. Pa., Colonial Musketeers Fife and Drum Corps. of Hackettstown, and the Liberty Band of Palmyra.
Ten men from three fire companies totaling 385 years of service will receive awards at the ceremony. The award recipients are: Raymond N. Grover, 50 years; Walter P. Foley, 55 years; and Elmer L. McHugh, 40 years, all of three served Engine Co. No. 1; Joseph S. Hoff, 40 years with the Engine Co. No. 3. There are also four men who served 35 years, and two men who served 30 years as firemen in various Princeton companies.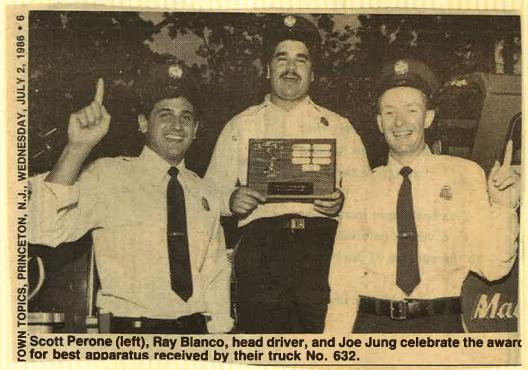 Scott Perone (left), Ray Blanco, head driver, and Joe Jung celebrate the award for best apparatus received by their truck No.632.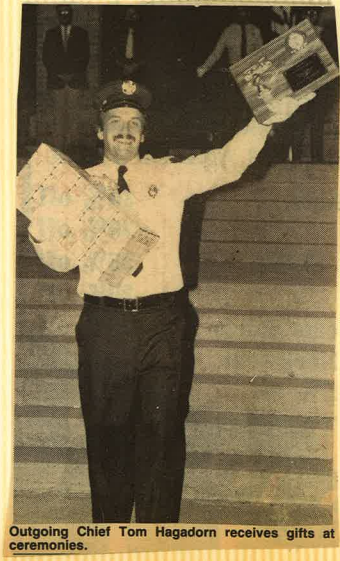 Outgoing Chief Tom Hagadorn receives gifts at ceremonies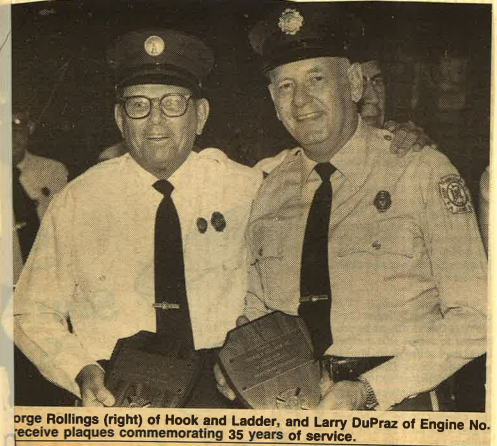 Rollings (right) of Hook and Ladder, and Larry DuPraz of Engine No. receive plaques of commemorating 35 years of service.