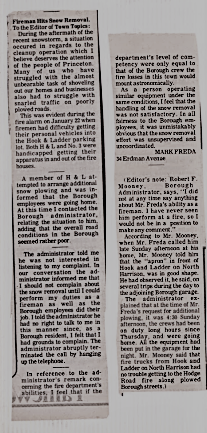 Town Topics
7 April 1978
(date estimated)
Fireman Hits Snow Removal.
To the Editor of Town Topics:
During the aftermath of the recent snowstorm, a situation occurred in regards to the cleanup operation which I believe deserves the attention of the people of Princeton. Many of us who have struggled with the almost unbearable task of shoveling out our homes and businesses also had to struggle with snarled traffic on poorly plowed roads.
This was evident during the fire alarm on January 22 when firemen had difficulty getting their personal vehicles into the Hook & Ladder parking lot. Both H & L and No. 3 were handicapped getting their apparatus in and out of the fire houses.
A member of H & L attempted to arrange additional snow plowing and was informed that the Borough employees were going home. At this time I contacted the Borough administrator, relating the situation to him, adding that the overall road conditions in the Borough seemed rather poor.
The administrator told me he was not interested in listening to my complaint. In our conversation the administrator informed me that I should not complain about the snow removal until I could perform my duties as a fireman as well as the Borough employees did their job. I told the administrator he had no right to talk to me in this manner since, as a Borough resident. I felt that I had grounds to complain. The administrator abruptly terminated the call by hanging up the telephone.
In reference to the administrator's remark concerning the fire department's abilities. I feel that if the department's level of competency were only equal to that of the Borough crew the fire losses in this town would mount astronomically.
As a person operating similar equipment under the same conditions, I feel that the handling of the snow removal was not satisfactory. In all fairness to the Borough employees, it was unmistakably obvious that the snow removal effort was unsupervised and uncoordinated.
MARK FREDA
34 Erdman Avenue
(Editor's note: Robert F. Mooney, Borough Administrator, says. "I did not at any time say anything about Mr. Freda's ability as a fireman I have never seen him perform at a fire, so I would not be in a position to make any comment."
According to Mr. Mooney, when Mr Freda called him late Sunday afternoon at his home. Mr. Mooney told him that the "apron" in front of Hook and Ladder on North Harrison, was in good shape. He had observed it, he said, on several trips during the day to the adjoining Borough garage.
The administrator explained that at the time of Mr. Freda's request for additional plowing, it was 4:30 Sunday afternoon, the crews had been on duty long hours since Thursday, and were going home. All the equipment had been put in the garage for the night. Mr. Mooney said that fire trucks from Hook and Ladder on North Harrison had no trouble getting to the Hodge Road fire along plowed Borough streets. )