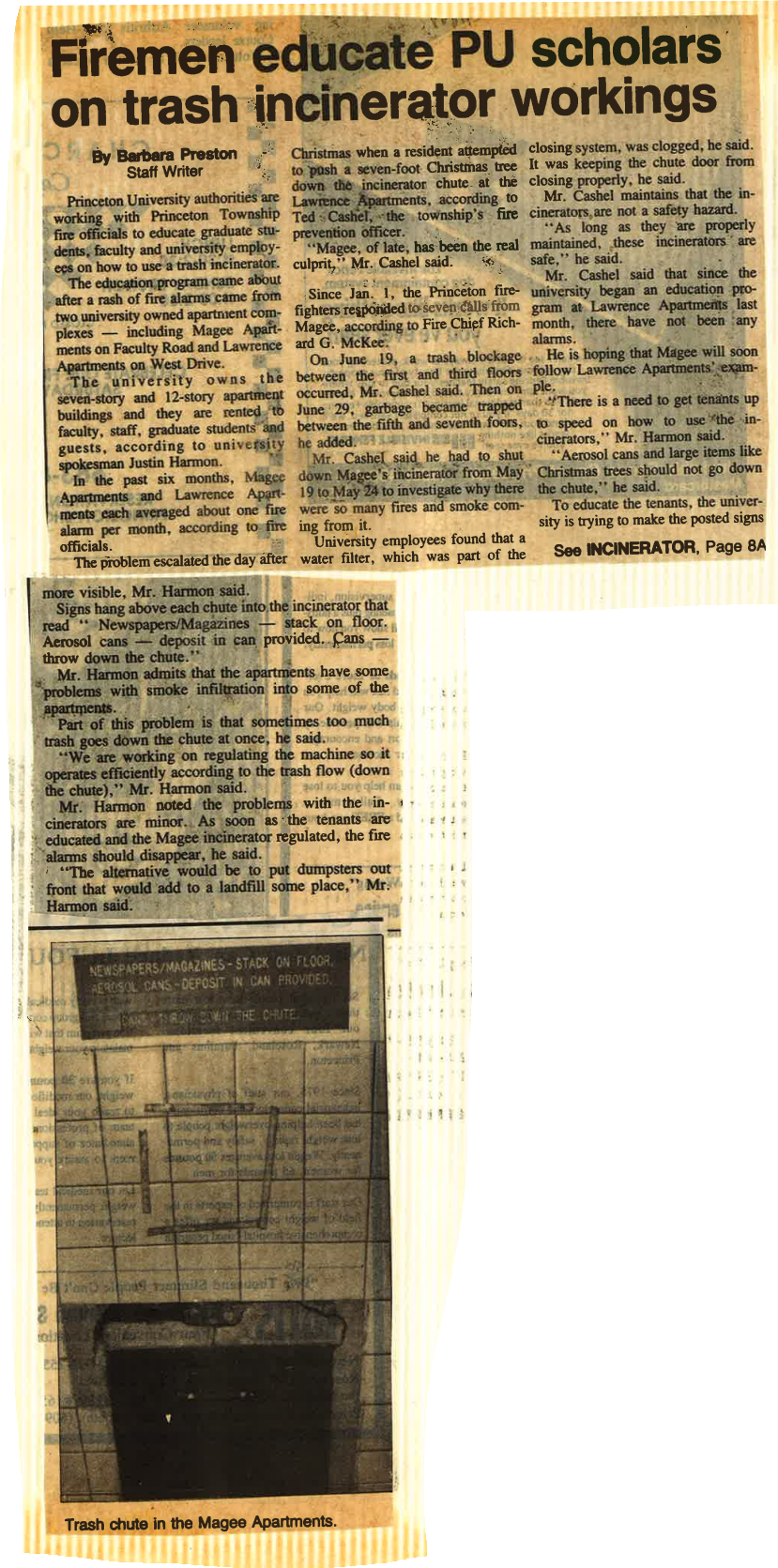 12 July, 1988 (~estimated)
Firemen educate PU scholars on trash incinerator workings
Princeton University authorities arc working with Princeton Township fire officials to educate graduate students, faculty and university employees on how to use a trash incinerator.
The education program came about after a rash of fire alarms came from two university owned apartment complexes — including Magee Apartments on Faculty Road and Lawrence Apartments on West Drive.
The university owns the seven-story and 12-story apartment buildings and they are rented to faculty, staff, graduate students and guests, according to university spokesman Justin Harmon.
In the past six months, Magee Apartments and Lawrence Apartments each averaged about one fire alarm per month, according to fire officials.
The problem escalated the day after Christmas when a resident attempted to posh a seven-foot Christmas tree down the incinerator chute at the Lawrence Apartments, according to Ted Cashel. the township's fire prevention officer.
"Magee, of late, has been the real culprit," Mr. Cashel said.
Since Jan. 1, the Princeton firefighters responded to seven calls from Magee, according to Fire Chief Richard G. McKee.
On June 19, a trash blockage between the first and third floors occurred, Mr. Cashel said. Then on June 29, garbage became trapped between the fifth and seventh floors, he added.
Mr. Cashel said he had to shut down Magee's incinerator from May 19 to May 24 to investigate why there were so many fires and smoke coming from it.
University employees found that a water filter, which was part of the closing system, was clogged, he said. It was keeping the chute door from closing properly, he said.
Mr. Cashel maintains that the incinerators are not a safety hazard.
"As long as they are properly maintained, these incinerators are safe." he said.
Mr. Cashel said that since the university began an education program at Lawrence Apartments last month, there have not been any alarms.
He is hoping that Magee will soon follow Lawrence Apartments' example.
"There is a need to get tenants up to speed on how to use the incinerators," Mr. Harmon said.
"Aerosol cans and large items like Christmas trees should not go down the chute," he said.
To educate the tenants, the university is trying to make the posted signs more visible, Mr. Harmon said.
Signs hang above each chute into the incinerator that read " Newspapers/Magazines — stack on floor. Aerosol cans — deposit in can provided. pans —throw down the chute."
Mr. Harmon admits that the apartments have some problems with smoke infiltration into some of the apartments.
Part of this problem is that sometimes too much trash goes down the chute at once, he said.
"We are working on regulating the machine so it operates efficiently according to the trash flow (down the chute)," Mr. Harmon said.
Mr. Harmon noted the problems with the incinerators are minor. As soon as the tenants are educated and the Magee incinerator regulated, the fire alarms should disappear, he said.
"The alternative would be to put dumpsters out front that would add to a landfill some place," Mr. Harmon said.