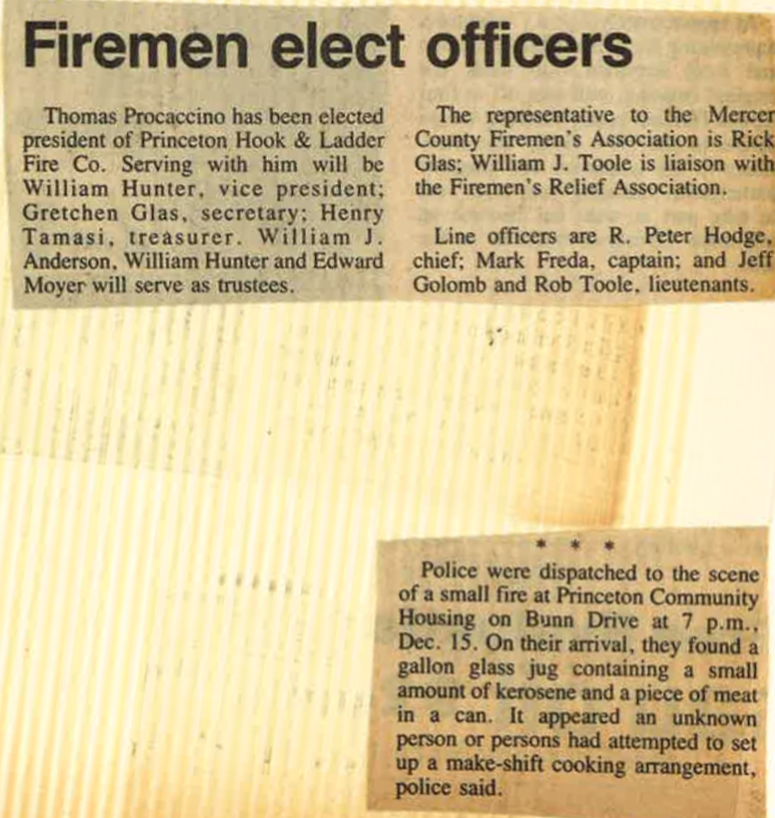 Firemen elect officers
Thomas Procaccino has been elected president of Princeton Hook & Ladder Fire Co. Serving with him will be William Hunter. vice president: Gretchen Glas, secretary: Henry Tamasi, treasurer. William J. Anderson. William Hunter and Edward Moyer will serve as trustees.
The representative to the Mercer County Firemen's Association is Rick Glas: William J. Took is liaison with the Firemen's Relief Association.
Line officers are R. Peter Hodge, chief: Mark Freda. captain: and Jeff Golomb and Rob Toole. lieutenants.
---
Police were dispatched to the scene of a small fire at Princeton Community Housing on Bunn Drive at 7 p.m., Dec. 15. On their arrival, they found a gallon glass jug containing a small amount of kerosene and a piece of meat in a can. It appeared an unknown person or persons had attempted to set up a make-shift cooking arrangement, police said.