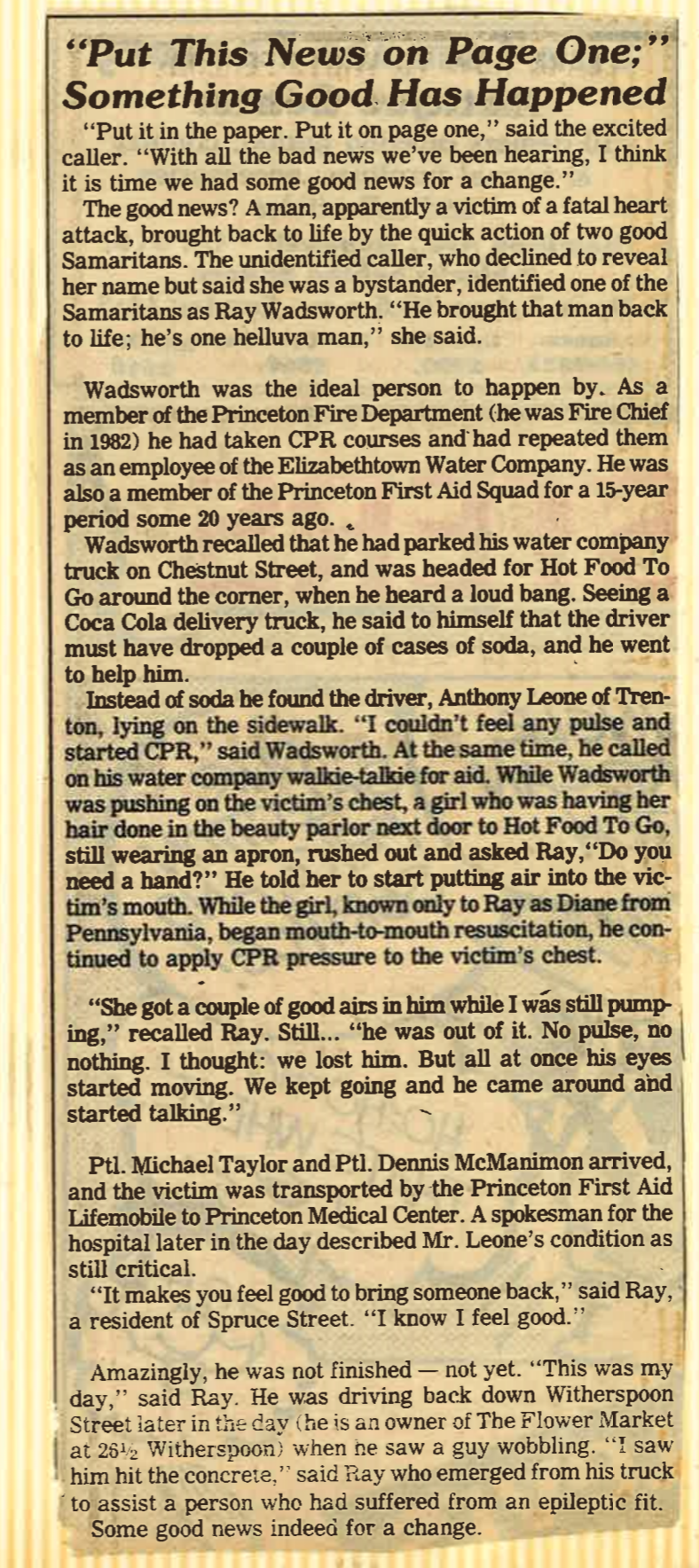 6 December, 1985
"Put This News on Page One;"
Something Good Has Happened
"Put it in the paper. Put it on page one," said the excited caller. "With all the bad news we've been hearing, I think it is time we had some good news for a change." The good news? A man, apparently a victim of a fatal heart attack, brought back to life by the quick action of two good Samaritans. The unidentified caller, who declined to reveal her name but said she was a bystander, identified one of the Samaritans as Ray Wadsworth. "He brought that man back to life; he's one helluva man," she said.
Wadsworth was the ideal person to happen by. As a member of the Princeton Fire Department the was Fire Chief in 1982) he had taken CPR courses and had repeated them as an employee of the Elizabethtown Water Company. He was also a member of the Princeton First Aid Squad for a 15-year period some 20 years ago.
Wadsworth recalled that he had parked his water company truck on Chestnut Street, and was headed for Hot Food To Go around the corner, when he heard a loud bang. Seeing a Coca Cola delivery truck, he said to himself that the driver must have dropped a couple of cases of soda, and he went to help him.
Instead of soda he found the driver, Anthony Leone of Trenton, lying on the sidewalk. "I couldn't feel any pulse and started CPR," said Wadsworth. At the same time he called on his water company walkie-talkie for aid. While Wadsworth was pushing on the victim's chest, a girl who was having her hair done in the beauty parlor next door to Hot Food To Go, still wearing an apron, rushed out and asked Ray, "Do you need a hand?" He told her to start putting air into the victim's mouth. While the girl, known only to Ray as Diane from Pennsylvania, began mouth-to-mouth resuscitation, he continued to apply CPR pressure to the victim's chest.
"She got a couple of good airs in him while I was still pumping," recalled Ray. Still… "he was out of it. No pulse, no nothing. I thought: we lost him But all at once his eyes started moving. We kept going and he came around and started talking."
Ptl. Michael Taylor and Ptl. Dennis McManimon arrived, and the victim was transported by the Princeton First Aid Lifemobile to Princeton Medical Center. A spokesman for the hospital later in the day described Mr. Leone's condition as still critical.
"It makes you feel good to bring someone back," said Ray, a resident of Spruce Street. "I know I feel good.
Amazingly, he was not finished — not yet. "This was my day," said Ray. He was driving back down Witherspoon Street later in the day (he is an owner of The Flower Market at 2512 Witherspoon) when he saw a guy wobbling. "I saw him hit the concrete," said Ray who emerged from his truck to assist a person who had suffered from an epileptic fit. Some good news indeed for a change.