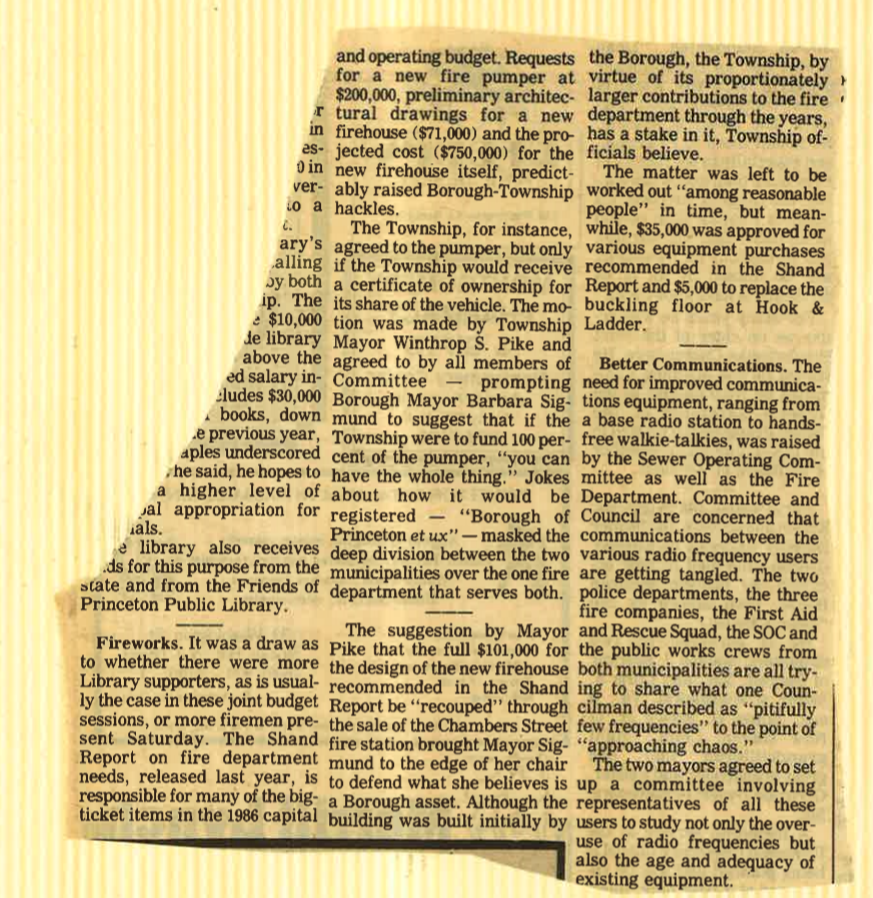 16 January, 1986 (~estimated)
Fireworks/Better Communications
Fireworks. It was a draw as to whether there were more Library supporters, as is usually the case in these joint budget sessions, or more firemen present Saturday. The Shand Report on fire department needs, released last year, is responsible for many of the big-ticket items in the 1986 capital and operating budget. Requests for a new fire pumper at $200,000, preliminary architectural drawings for a new firehouse ($71,000) and the projected cost ($750,000) for the new firehouse itself, predictably raised Borough-Township hackles.
 The Township, for instance, agreed to the pumper, but only if the Township would receive a certificate of ownership for its share of the vehicle. The motion was made by Township Mayor Winthrop S. Pike and agreed to by all members of Committee — prompting Borough Mayor Barbara Sigmund to suggest that if the Township were to fund 100 percent of the pumper, "you can have the whole thing." Jokes about how it would be registered — "Borough of Princeton et ux" — masked the deep division between the two municipalities over the one fire department that serves both. 
The suggestion by Mayor Pike that the full $101,000 for the design of the new firehouse recommended in the Shand Report be "recouped" through the sale of the Chambers Street fire station brought Mayor Sigmund to the edge of her chair to defend what she believes is a Borough asset. Although the building was built initially by the Borough, the Township, by virtue of its proportionately larger contributions to the fire department through the years, has a stake in it, Township officials believe. 
The matter was left to be worked out "among reasonable people" in time, but meanwhile, $35,000 was approved for various equipment purchases recommended in the Shand Report and $5,000 to replace the buckling floor at Hook & Ladder. 
Better Communications. The need for improved communications equipment, ranging from a base radio station to hands-free walkie-talkies, was raised by the Sewer Operating Committee as well as the Fire Department. Committee and Council are concerned that communications between the various radio frequency users are getting tangled. The two police departments, the three fire companies, the First Aid and Rescue Squad, the SOC and the public works crews from both municipalities are all trying to share what one Councilman described as "pitifully few frequencies" to the point of "approaching chaos." 
The two mayors agreed to set up a committee involving representatives of all these users to study not only the overuse of radio frequencies but also the age and adequacy of existing equipment.