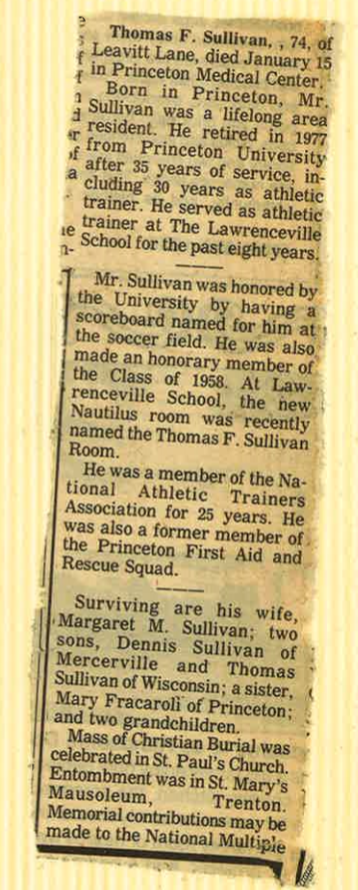 17 January, 1986 (~estimated)
Thomas F. Sullivan
Thomas F. Sullivan, 74, of Leavitt Lane died January 15 in Princeton Medical Center. 
Born in Princeton, Mr. Sullivan was a lifelong area resident. He retired in 1977 from Princeton University after 35 years of service, including 30 years as athletic trainer. He served as athletic trainer at The Lawrenceville School for the past eight years. 
Mr. Sullivan was honored by the University by having a scoreboard named for him at the soccer field. He was also made an honorary member of the Class of 1958. At Lawrenceville School, the new Nautilus room was recently named the Thomas F. Sullivan Room.
He was a member of the National Athletic Trainers Association for 25 years. He was also a former member of the Princeton First Aid and Rescue Squad.
Surviving are his wife, Margaret M. Sullivan; two sons, Dennis Sullivan of Mercerville and Thomas Sullivan of Wisconsin; a sister, Mary Fracaroli of Princeton; and two grandchildren. 
Mass of Christian Burial was celebrated in St. Paul's Church. Entombment was in St. Mary's Mausoleum, Trenton. Memorial contributions may be made to the National Multiple.