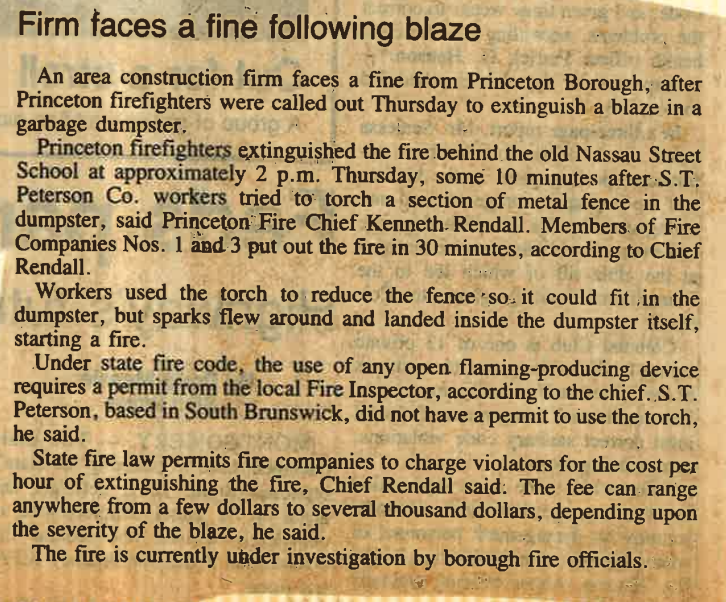 4 March, 1987
Firm faces a fine following blaze
An area construction firm faces a fine from Princeton Borough, after Princeton firefighters were called out Thursday to extinguish a blaze in a garbage dumpster.
Princeton firefighters extinguished the fire behind the old Nassau Street School at approximately 2 p.m. Thursday, some 10 minutes after-S.T. Peterson Co. workers tried to torch a section of metal fence in the dumpster, said Princeton' Fire Chief Kenneth- Rendall. Members. of Fire Companies Nos. 1 and 3 put out the fire in 30 minutes, according to Chief Rendall.
Workers used the torch to reduce the fence 'so it could fit ,in the dumpster, but sparks flew around and landed inside the dumpster itself, starting a fire.
Under state fire code, the use of any open a flaming-producing device requires a permit from the local Fire Inspector, according to the chief. S.T. Peterson, based in South Brunswick, did not have a permit to use the torch, he said.
State fire law permits fire companies to charge violators for the cost per hour of extinguishing the fire, Chief Rendall said: The fee can range anywhere from a few dollars to several thousand dollars, depending upon the severity of the blaze, he said. The fire is currently under investigation by borough fire officials.