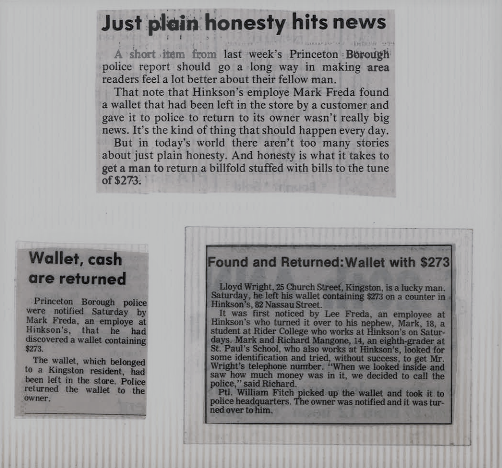 1 January 1975
(date estimated)
Article 1: Just plain honesty hits news
A short item from last week's Princeton Borough police report should go a long way in making area readers feel a lot better about their fellow man. That note that Hinkson's employee Mark Freda found a wallet that had been left in the store by a customer and gave it to police to return to its owner wasn't really big news. It's the kind of thing that should happen every day. But in today's world there aren't too many stories about just plain honesty. And honesty is what it takes to get a man to return a billfold stuffed with bills to the tune of $273.
Article 2: Wallet, cash are returned
Princeton Borough police were notified Saturday by Mark Freda, an employee at Hinkson's, that he had discovered a wallet containing $273. The wallet, which belonged to a Kingston resident, had been left in the store. Police returned the wallet to the owner.
Article 3: Found and Returned: Wallet with $273
Lloyd Wright, 25 Church Street, Kingston, is a lucky man. Saturday, he left his wallet containing $273 on a counter in Hinkson's, 82 Nassau Street. It was first noticed by Lee Freda, an employee at Hinkson's who turned it over to his nephew, Mark, 18, a student at Rider College who works at Hinkson's on Saturdays. Mark and Richard Mengone, 14, an eighth-grader at St. Paul's School, who also works at Hinkson's, looked for some identification and tired, without success, to get Mr. Wright's telephone number. "When we looked inside and saw how much money was in it, we decided to call the police," said Richard. Ptl. William Fitch picked up the wallet and took it to police headquarters. The owner was notified and it was turned over to him.