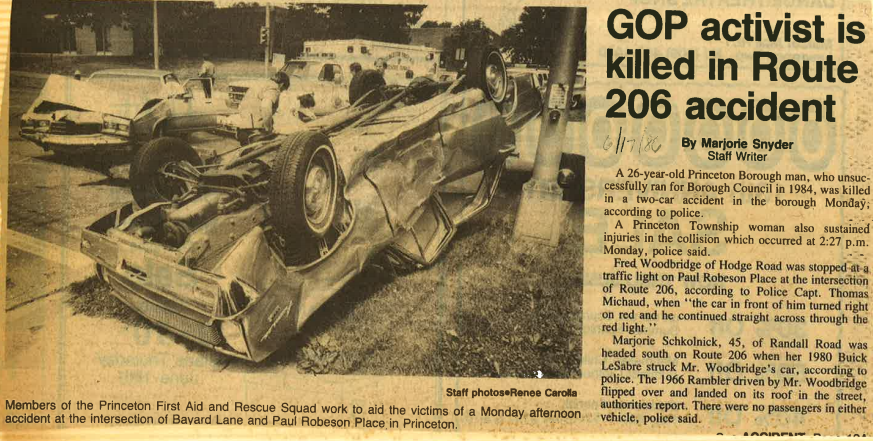 Staff photos•Renee Corolla 
Members of the Princeton First Aid and Rescue Squad work to aid the victims of a Monday afternoon accident at the intersection of Bayard Lane and Paul Robeson Place in Princeton. 
17 June, 1986
GOP activist is killed in Route 206 accident 
By Marjorie Snyder
Staff Writer 

A 26-year-old Princeton Borough man, who unsuccessfully ran for Borough Council in 1984, was killed in a two-car accident in the borough Monday, according to police. 
A Princeton Township woman also sustained injuries in the collision which occurred at 2:27 p.m. Monday, police said. 
Fred Woodbridge of Hodge Road was stopped at a traffic light on Paul Robeson Place at the intersection of Route 206, according to Police Capt. Thomas Michaud, when "the car in front of him turned right on red and he continued straight across through the red light." 
Marjorie Schkolnick, 45, of Randall Road was headed south on Route 206 when her 1980 Buick LeSabre struck Mr. Woodbridge's car, according to police. The 1966 Rambler driven by Mr. Woodbridge flipped over and landed on its roof in the street, authorities report. There were no passengers in either vehicle, police said.