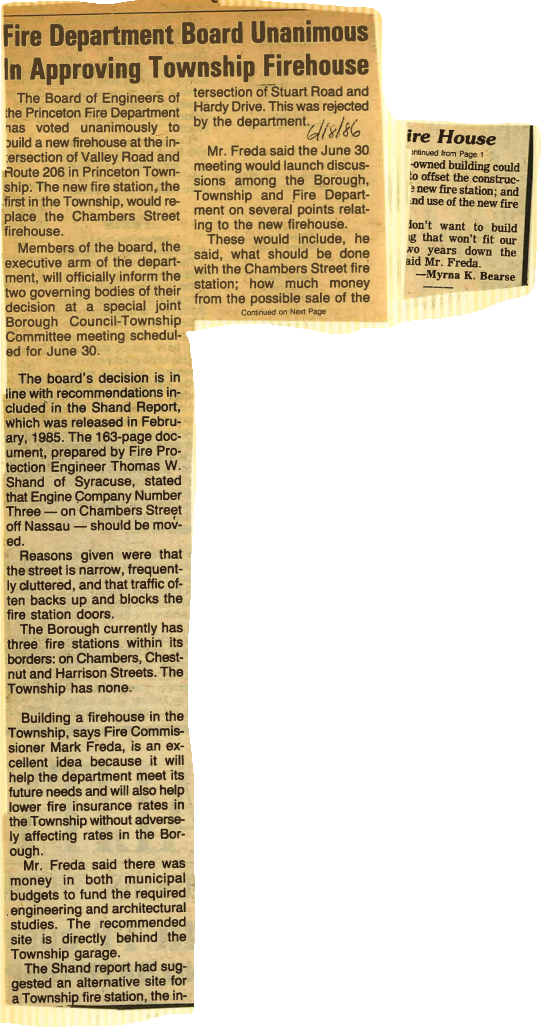 18 June, 1986
Fire Department Board Unanimous In Approving Township Firehouse
Myrna K. Bearse
The Board of Engineers of the Princeton Fire Department has voted unanimously to build a new firehouse at the intersection of Valley Road and Route 206 in Princeton Township. The new fire station, the first in the Township, would replace the Chambers Street firehouse. 
Members of the board, the executive arm of the department, will officially inform the two governing bodies of their decision at a special join borough Council-Township Committee meeting scheduled for June 30. 
The board's decision is in line with recommendations included in the Shand Report, which was released in February, 1985. The 163-page document, prepared by Fire Protection Engineer Thomas W. Shand of Syracuse, stated that Engine Company Number Three — on Chambers Street off Nassau — should be moved.
Reasons given were that the street Is narrow, frequently cluttered, and that traffic often backs up and blocks the fire station doors. 
The Borough currently has three fire stations within its borders: on Chambers, Chestnut, and Harrison Streets. The Township has none.
Building a firehouse in the Township, says Fire Commissioner Mark Freda, is an excellent idea because it will help the department meet in future needs and will also help lower fire insurance rates in the Township without adversely affecting rates in the Borough. 
Mr. Freda said there was money in both municipal budgets to fund the required engineering and architectural studies. The recommended site is directly behind the Township garage. The Shand report had suggested an alternative site for a Township fire station, the intersection of Stuart Road and Hardy Drive. This was rejected by the department. 
Mr. Freda said the June 30 meeting would launch discussions among the Borough, Township, and Fire Department on several points relating to the new firehouse.
These would include, he said, what should be done with the Chambers Street fire station; how much money from the possible sale of the owned building could be used to offset the construction of the new fire station, and the use of the new fire…. I don't want to build something that won't fit our…two years down the road said Mr. Freda.