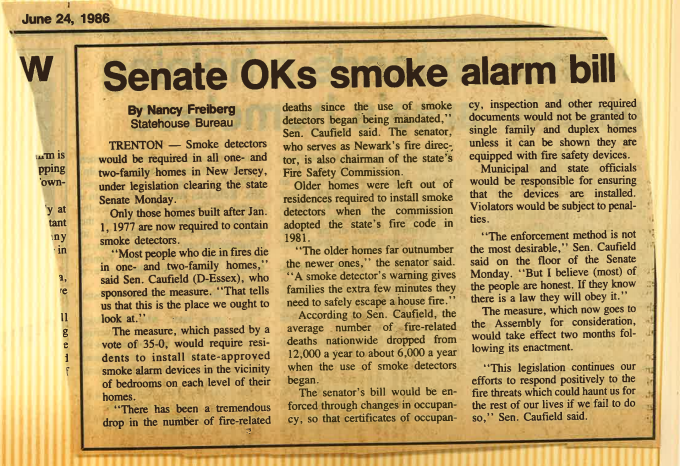 24 June, 1986
Senate OKs smoke alarm bill 
By Nancy Freiberg
Statehouse Bureau 

TRENTON — Smoke detectors would be required in all one and two-family homes in New Jersey, under legislation clearing the state Senate Monday. 
Only those homes built after Jan. 1, 1977 are now required to contain smoke detectors. 
"Most people who die in fires die in one and two-family homes," said Sen. Caufield (D-Essex), who sponsored the measure. "That tells us that this is the place we ought to look at." 
The measure, which passed by a vote of 35-0, would require residents to install state-approved smoke alarm devices in the vicinity of bedrooms on each level of their homes. 
"There has been a tremendous drop in the number of fire-related deaths since the use of smoke detectors began being mandated," Sen. Caufield said. The senator, who serves as Newark's fire director, is also chairman of the state's Fire Safety Commission. 
Older homes were left out of residences required to install smoke detectors when the commission adopted the state's fire code in 1981. 
 "The older homes far outnumber the newer ones," the senator said. "A smoke detector's warning gives families the extra few minutes they need to safely escape a house fire." 
According to Sen. Caufield, the average number of fire-related deaths nationwide dropped from 12,000 a year to about 6,000 a year when the use of smoke detectors began. The senator's bill would be enforced through changes in occupancy so that certificates of occupancy, inspection, and other required documents would not be granted to single-family and duplex homes unless it can be shown they are equipped with fire safety devices. 
Municipal and state officials would be responsible for ensuring that the devices are installed. Violators would be subject to penalties. 
"The enforcement method is not the most desirable," Sen. Caufield said on the floor of the Senate Monday. "But I believe (most) of the people are honest. If they know there is a law they will obey it." 
The measure, which now goes to the Assembly for consideration, would take effect two months following its enactment.
"This legislation continues our efforts to respond positively to the fire threats which could haunt us for the rest of our lives if we fail to do so," Sen. Caufield said.