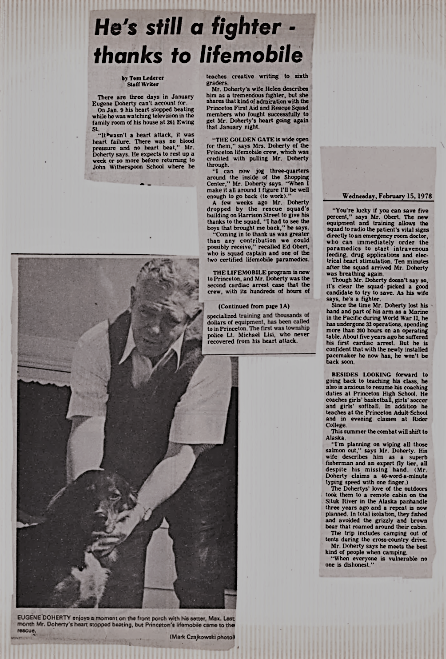 15 February 1978
He's still a fighter – thanks to lifemobile
by Tom Lederer
Staff Writer
There are three days in January Eugene Doherty can't account for.
On Jan. 9 his heart stewed beating while he was watching television in the family room of his house at 261 Ewing St.
"It wasn't a heart attack, it was heart failure. There was no blood pressure and no heart heat," Mr. Doherty says. He expects to rest up a week or so more before returning to John Witherspoon School where he teaches creative writing to sixth graders.
Mr. Doherty's wife Helen describes him as a tremendous fighter, but she shares that kind of admiration with the Princeton First Aid and Rescue Squad members who fought successfully to get Mr Doherty's heart going again that January night.
"THE GOLDEN GATE is wide open for them," says Mrs Doherty of the Princeton lifemobile crew, which was credited with pulling Mr Doherty through.
"I can now jog three-quarters around the inside of the Shopping Center." Mr. Doherty says. "When I make it all around I figure I'll be well enough to go back do work!."
A few weeks ago Mr Doherty dropped by the rescue squads building on Harrison Street to give his thanks to the squad. "I had to see the boys that brought me back." he says.
"Coming in to thank us was greater than any contribution we could possibly receive," recalled Ed Obert. who is squad captain and one of the two certified lifemobile paramedics.
THE LIFEMOBILE program is new to Princeton, and Mr. Doherty was the second cardiac arrest case that the crew, with its hundreds of hours of
(Continued from page 1A)
specialized training and thousands of dollars of equipment, has been called in Princeton. The first was township police Lt. Michael List, who never recovered from his heart attack.
"You're lucky if you can save five percent," says Mr. Obert. The new equipment and training allows the squad to radio the patient's vital signs directly to an emergency room doctor, who can immediately order the paramedics» to start intravenous feeding, drug applications and electrical heart stimulation. Ten minutes after the squad arrived Mr. Doherty was breathing again.
Though Mr. Doherty doesn't say so, it's clear the squad picked a good candidate to try to save. As his wife says, he's a fighter.
Since the time Mr. Doherty lost his hand and part of his arm as a Marine in the Pacific during World War II. he has undergone 32 operations, spending more than 200 hours on an operating table. About five years ago he suffered his first cardiac arrest. But he is confident that with the newly installed pacemaker he now has, he won't be back soon.
BESIDES LOOKING forward to going back to teaching his class, he also is anxious to resume his coaching duties at Princeton High School. He coaches girls' basketball, girls' soccer and girls' softball. In addition he teaches at the Princeton Adult-School and in evening classes at Rider College.
This summer the combat will shift to Alaska.
"I'm planning on wiping all those salmon out," says Mr. Doherty. His wife describes him as a superb fisherman and an expert fly tier, all despite his missing hand. (Mr. Doherty claims a 40 word-a-minute typing speed with one finger.)
The Dohertys' love of the outdoors took them to a remote cabin on the Situfc River in the Alaska panhandle three years ago and a repeat is now planned. In total isolation, they fished and a avoided the grizzly and brown bears that roamed around their cabin.
Mr. Doherty says he meets the best kind of people when camping
"When everyone is vulnerable no one is dishonest"
Photo Caption:
EUGENE DOHERTY enjoys a moment on the fron porch with his setter, Max. Last month Mr. Doherty's heart stopped beating, but Princeton's lifemobile came to the rescue. (Mark Czajkowski photo)